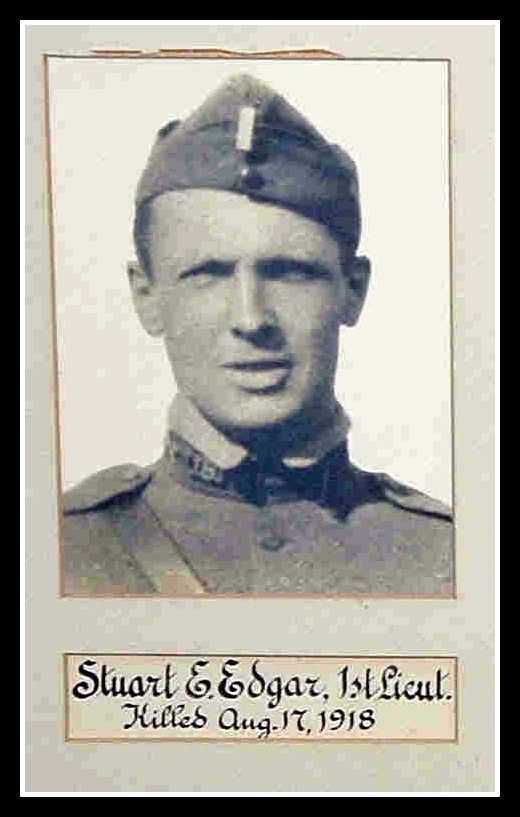 (Oct. 5, 1918) -- News of the death of Lt. Stuart Emmet Edgar, of the Lafayette Escadrille reached his mother, Mrs. Howard Edgar Tuesday within hours, from two sources although neither one was official.
Mrs. Edgar had been visiting Dr. and Mrs. George Philhower, of Grant Avenue, Nutley, N.J., for several days and was there when she received the news.
The first word was received from a Mrs. Ovington, who acts as volunteer secretary of the Escadrille, in which she said Lieut. Edgar had been a guest at her home.
The second letter was from Capt. William Rockwell, head of the Squadron, who told of his death but gave few details.
Rockwell said the mishap came just as Lieut. Edgar was starting out at 5:30 on the morning of Aug. 17, 1918, for patrol duty. This date is just one year after the death of Stephen H. Dorr in an airplane mishap in Toronto.
Lieutenant Edgar was 28 years old and for a short time worked for the Sun. Later he was on the staff of the Newark News and the New York Evening Sun.
He was born in Nutley and attended the Newark Academy and the Riverview Military Academy at Peekskill, N.Y., where he was a member of the football and baseball teams.
He later went to Cornell, where he was active in athletics and was a member of the Chi Psi fraternity and the Undine Sophomore Society.
In October 1916, Edgar joined the Norton-Harjes ambulance unit and went to France as an ambulance driver. Later he went into the French aviation service, receiving his training a the Avord Flying School and later at Pau.
When America entered the war he was transferred to the United States air service. Recently Lieutenant Edgar wrote to his mother that he had been engaged in his first air fight from which he emerged unhurt.
Besides his mother, Lieutenant Edgar leaves three sisters, Mrs. Runyon Colie, of Nutley; Mrs. Walter B. Power, of Redlands, Calif., and Mrs. David Storer, of Collegeville, Pa.
The Veterans of Foreign Wars Post #493, 272 Washington Avenue, Nutley, N.J., is named in his honor.
---
The Nutley Sun, Oct. 5, 1918: Starting Mishap Fatal To S.E. Edgar – Few details sent with news of local boy's death in air service
Lafayette Escadrille