---
---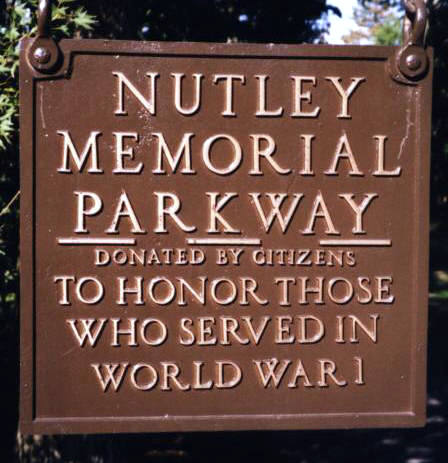 Memorial Parkway
A bronze memorial at Chestnut Street entrance Pathway extending length of parkway 427 trees, 'a tree for each who served'
A copper marker bearing name of each who served Memorial boulder and bronze tablet bearing names of 17 men who died
This boulder to be surrounded by grove of 17 trees
Purchase of strip of land from the Schneider heirs, 1040 feet long by 75 feet wide
The cleaning and deepening of Kingsland Pond, making it suitable for canoeing, swimming and skating.
Four hundred and twenty-seven bronze medals, 'one for each who served'
Handsomely engraved list, alphabetically arranged, of the names of those who served, to be framed and hung on the wall of the Library.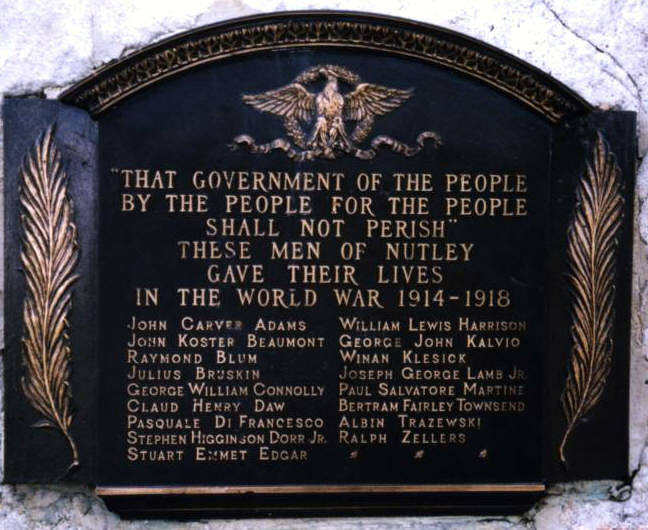 ---

---
Dorr, Stephen Higginson., Jr., Aug. 17,1917, Toronto.
Harrison, William Lewis, Camp Stuart, Newport News, Va. Date unknown, (1917-1918?)
Trazewski, Albert, private, May 23, 1918, France
Connolly, George William, Marines, June 6, 1918
Bruskin, Julius, Corporal, June 11, 1918
Martino, Paul Salvatore, Corporal July 15, 1918, France
Adams, John Carver, Captain, July 25, 1918, France
Edgar, Stuart Emmet, First Lieutenant, Aug. 17, 1918, France
Daw, Claude Henry, private, Canadian Expeditionary Forces, Sept. 27, 1918
Lamb, Joseph George, Jr., private, Oct. 10, 1918, France
Beaumont, John Koster Oct. 12, 1918, France
Townsend, Bertram Fairley, private, Oct. 14, 1918, died Fort Sill, Okla.
Klesick, Winan, Sergeant, Oct. 15, 1918, France
Kalvio, George John, Oct 24, 1918, France
Blum, Ray, Grand Pre, France, October 22, 1918.
Zellars, Ralph, Nov. 5, 1918, France
De Francesco, Pasquale (Joseph), Nov. 28, 1918
Hehn, John C. Jr., Paris, Dec. 8, 1918
---
Nutley's WWI Ace James Pearson
Related Photos from WWI, courtesy Andy Andriola
---
According to the American Battle Monuments Commission, of the 136,516 Americans that lost their lives during World War I, there were 4,452 Missing In Action.
---
We gratefully acknowledge the cooperation of:
The Nutley Sun
The American Legion Post 70, Nutley
The American Battle Monuments Commission
Anthony "Andy" Andriola & family
World War I Casualties: Descriptive Cards and Photographs - New Jersey State Archives
---
* World Almanac and Book of Facts for 1921