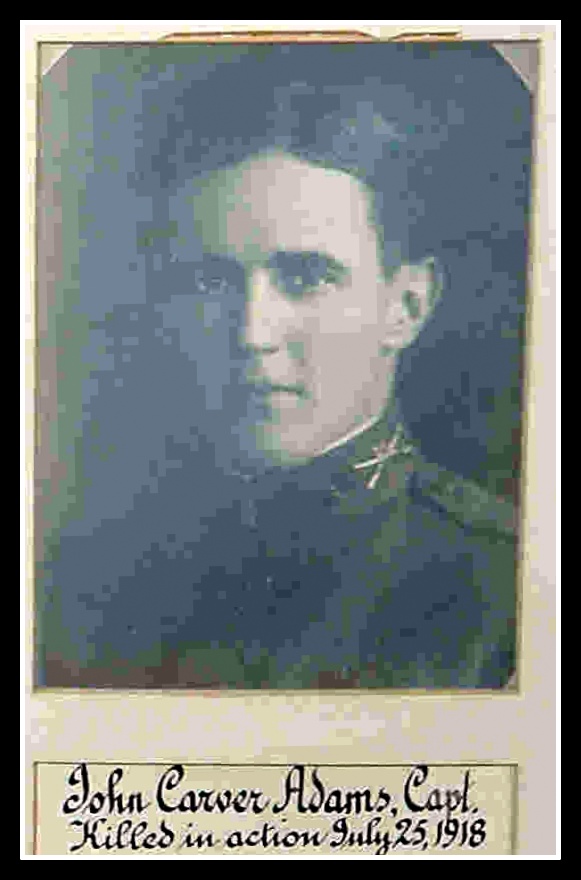 (Aug. 24, 1918) -- Captain John Adams, 30th Infantry, was reported killed in action by the War Department this week. His name has not appeared in the casualty list.
Captain Adams met his death July 25, 1918, leading his company into action on the Marne salient.
He was 23 years old, and has a brother in the service, Lt. R. Ranney Adams.
Captain Adams is the son of Mrs. Katherine Adams, of the Crockett House, and a nephew of D. Anthony Usina.
Mrs. Adams received notice in February 1919, that her son had been posthumously awarded the Distinguished Service Cross.
The message says the award is made "for extraordinary heroism in action at Chateau Thierry, July 15."
Captain Adams was only 22 years old (sic) when he was killed at the second Battle of the Marne on July 25, ten days later.
He enlisted in the Militia in Portland, Ore., when 18 years old and went to the Border as a cavalryman.
He passed the examinations for a commission while there and was then sent to Fort Leavenworth where he was graduated and commissioned a lieutenant in July 1917.
Transferred to Syracuse, he was assigned to the 30th Infantry and went to Camp Greene.
He was promoted to captain and went abroad Feb. 25, 1918, ahead of his regiment for further instruction. He got into action about the middle of May and continued until his death.
Unofficial word that the Distinguished Service Cross was to be awarded to her son was received by Mrs. Adams several months ago from his commanding officer, Col. Jeunet, who wrote that Captain Adams's company had not retreated an inch in the Hun attack at Chateau Thierry, but had taken prisoners, and that the captain had shown most extraordinary bravery and coolness on many occasions.
Although never a resident of Nutley, Captain Adams was well-known here.
---
The Nutley Sun, Aug. 24, 1918; Feb. 15, 1919.