SERVICES MONDAY FOR ARMY FLYER, 8TH CASUALTY
Music and Aviation Vied For First Place
in Life of Plane Victim
(March 19, 1943) – 2nd Lt. Robert Turchette was killed aboard a bomber that crashed Friday afternoon in Little Rock, Ark.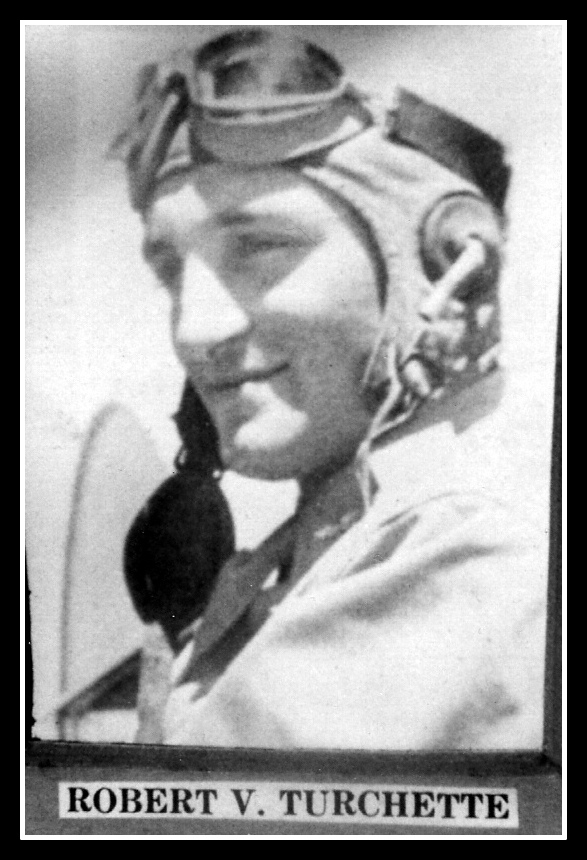 His family was notified Saturday morning.
On Sunday they received a telegram from Robert's commanding officer stating that he had been among those definitely killed in the crash.
The flier's parents, Mr. and Mrs. Joseph Turchette of Nutley Avenue and his sister Jacqueline, who was 18 last Saturday, expected him home shortly for a visit, but the pressure of Army duties had delayed his furlough.
It would have been his first since joining the Air Force shortly after the attack on Pearl Harbor.
His mother remarked that he was strongly incensed over the Japanese attack. Although she was reluctant to see him go, she couldn't stand in his way. "You wouldn't want me to stay home, mother," he said, "you wouldn't want that kind of a son."
Robert, the eighth local war casualty, always liked planes and made many model planes as a youngster.
When the Turchettes moved to Nutley nine months ago, Robert's mother wrote him asking what she should do with his large supply of model airplanes. He wrote back to give them to other boys who were interested in them.
Aside from airplanes, Robert's other great love was music. He was an accomplished pianist, and he practiced incessantly. He loved classical music, and he regularly attended concerts at Carnegie Hall.
He was such an enthusiastic admirer of Horowitz, the gifted pianist, that he sometimes followed him out of New York to attend his recitals.
"Music to him was like another life," his mother said. "Once he took me to Carnegie Hall and I saw him trembling all over as he listened to the music. And I could understand his great love for it. It lifted him to a life above our own."
Robert developed not only his own interest in music but encouraged his sister, Jacqueline, of whom he was very fond, to develop her talents as a pianist and accordionist. He often wrote her urging her to practice as much as she could. Once he wrote: "I'm dying to hear you play."
His interest in music created a conflict as to his future life work owing to his equally great enthusiasm for airplanes.
He finally decided to earn a livelihood in the latter field, and in 1939, following his graduation from Barringer High in Newark, he entered Rensselaer Polytechnic Institute to study plane designing.
He was in the middle of his sophomore year when he decided to enlist in the Army.
His letters home, his mother said, were masterpieces of prose. He would write not only of his work, but also of the cloud formations, the canyons and the mountains over which he flew.
Lt. Turchette was very fond of dogs and his particular favorite was Tipple, a scion of a line of police dogs and Boston bulls.
With the current goings on, Tipple seems to sense that something is wrong. But like the little toy dog in Eugene Field's "Little Boy Blue," he patiently sits back and awaits his master's return.
Mrs. Turchette said that she has received letters and visits from hundreds of people, many of whom she never knew before now. "They have all be very kind," she added, "wonderfully kind."
The Turchettes have another son, Ernest, who is married and lives in Belleville. Like the rest of the family, he is broken over the news concerning his brother, and keeps repeating to himself, "Why didn't you bail out, Bob, why didn't you bail out?"
Services were conducted Monday at Stirratt Funeral Home followed by interment at Immaculate Conception Cemetery, Montclair.
From The Nutley Sun
---
Nutley copilot helped keep bomber aloft
to avoid crashing into populated area
---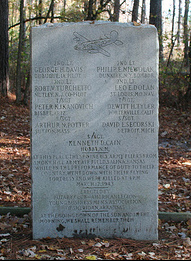 While the construction and ongoing upkeep of the Sheridan B-17 Memorial Park is our primary mission, the secondary mission is to clear the record of Pilot Davis. Local Veterans and area residents believe that 2nd Lieutenant George Davis should not have been held responsible for the loss of his B-17F Flying Fortress and its crew.
Rather, he should have been recognized for his valiant efforts in keeping his Flying Fortress airborne while over the Sheridan, Arkansas, area.
The actions of Pilot Davis and his crew in finding a non-residential area on which to crash land possibly saved the lives of area residents.
The Sheridan B-17 Memorial Park, located at the actual crash site, was erected on March 10, 1944, to their memory states
"At the going down of the Sun and in the morning, we shall remember them".
The Veterans of the Sheridan American Legion Post #30, Sheridan Disabled American Veterans Chapter #56 and many Grant County residents have not forgotten these nine young Airmen and we dedicate the new Sheridan B-17F Memorial Park to honor them and all Veterans that have served our Nation in the past, present and will continue to serve in the future.
Stepping Stone Project
---
The Crew
Pilot – 2nd Lt. George H. Davis, age 22, from Dubuque, Iowa
Co-Pilot – 2nd Lt, Robert V. Turchette, age 22, from Newark (Nutley), New Jersey
Navigator – 2nd Lt. Leo E. Dolan, age 24, from St. Louis, Missouri
Bombardier – 2nd Lt. Phillip E. Niewolak, age 24, from Dunkirk, New York
Engineer – T/Sgt. Dewitt H. Tyler, age 25, from Porterville, California
Radio Operator – T/Sgt. Peter K. Ivanovich age 25 from Bisbee, Arizona
Waist Gunner – S/Sgt. Arthur N. Potter, age 26, from Springfield, Vermont
Ball Turrett Gunner - S/Sgt. David G. Secorski, age 22, from Detroit, Michigan
Tail Gunner – S/Sgt. Kenneth D. Cain, age 22, from Hobbs, New Mexico
-- Sheridan B17 Memorial Park
---
Sources
From The Nutley Sun, March 19, 1943:
SERVICES MONDAY FOR ARMY FLYER, 8TH CASUALTY
Music and Aviation Vied For First Place in Life of Plane Victim
American Legion Post 70 Memorial - photo
Sheridan B17 Memorial Park