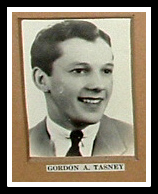 (May 12, 1944) - Mr. and Mrs. Leslie D. Tasney of Nutley avenue were notified by the War department that their son, Sgt. Gordon Tasney of the Army Air Forces, had been missing over Italy since early April.

Sgt. Tasney is a nose gunner on a Liberator and had been overseas since January when he flew there by bomber.

Belleville son Anthony Noto, who was killed April 28, 1945, served in the same bomber group, 756th Bomber Squadron.
---
From The Nutley Sun; May 12, 1944
Sgt. Gordon Tasney, Nose Gunner
Missing Over Italy
American Battle Monuments Commission
American Legion Post 70 Memorial
National Archives and Records Administration
---
---
---