Member Of Paratroop Invasion
Of Sicily, There Only A Month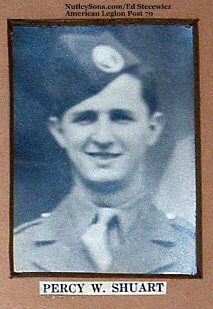 (October 8, 1943) -- A paratrooper in the opening invasion of Sicily, Cpl. Percy W. Shuart, 23, was killed in action there on July 11, his mother, Mrs. Patrick O'Neill, of 154 Whitford Avenue, has learned through the war department.
A subsequent letter from Gen. Marshall informed Mrs. O'Neill that her son had died ''gallantly in action,'' and that she had every reason to be proud of him.
He is also survived by Mrs. Thomas Murin, who resides at the Ambassador apartments on Park avenue.
The Nutley Sun,October 8, 1943
CPL P. W. SHUART
KILLED IN ACTION
Member Of Paratroop Invasion
Of Sicily, There Only A Month