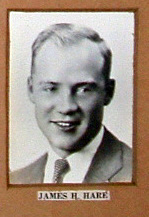 (Aug.6, 1943) -- 1st Lt. James H. Hare, 27, died of an illness in a Japanese prison camp, his father, Kenneth R. Hare of Hillside Avenue, was notified by the War Department.
A 1st Lt. James H. Hare of the 71st Engineer Battalion, 71st Philippine Division, died Nov. 27, 1942, in the South Pacific.
The last message that Mr. Hare received was a wireless that he was "all right" after the fall of Bataan. A message was received by the father by the American Red Cross that his son was a prisoner of war.
Figures from the War Department are that one out of every 10 American soldiers known to have been captured since the fall of Corrigidor and Bataan has died of disease in Jap prison camps.
Lt. Hare, 27, was a graduate of Wisconsin University, receiving his Chemical Engineering degree in 1940.
He was called into the Army in the same year as a 2nd lieutenant and trained at Fort Belvoir, Va. He chose foreign duty and was sent to the Philippines.
His father is a sales manager for Koppers Company in Kearny and moved to Nutley over a year ago from Chicago, Ill.
He is listed on the Tablets of the Missing at Manila American Cemetery, Manila, Philippines. He was awarded the Purple Heart.
---
From The Nutley Sun
LT. JAMES HARE DIES IN JAP CAMP
Last Message Received Said
He Was ''All-Right'' After Fall Of Bataan
American Battle Monuments Commission
American Legion Post 70 Memorial
National World War II Memorial
World War II Honor List of Dead and Missing,
State of New Jersey, War Dept. June 1946