(Dec. 8, 1944) - Mrs. John M. Hanley of Race street was advised by the War Department last Friday that her husband, 1st Lt. Hanley was killed Nov. 21, in the Burma Theatre of Opera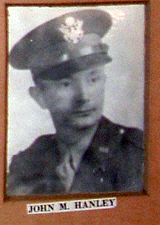 tion.

Mrs. John Michael Hanley of Race Street, said the telegram stated that details of his death had not yet been released.
Mrs. Hanley, the former Mary Bandera of this town, had recently learned that her husband, a lawyer by profession, had just received an assignment in the department of the Provost Marshall General as a defense counselor during court martial proceedings.
Lt. Hanley, 37, son of Mr. and Mrs. James Hanley of Jersey City, was married in May 1941 and was inducted shortly afterward on June 12, his 34th birthday.
He trained at Ft. Belvoir, Va., and late in 1942, entered Officer Candidate School, from which he was graduated and received his commission as 2nd lieutenant in 1942.
In July 1943, he was commissioned a 1st lieutenant and left for overseas. He was awarded the American Defense Service Medal, Asiatic-Pacific Campaign medal with one Bronze Service Star, an Honorable Service Lapel Button WWII and a World War II Victory pin.
Educated at All Saints Parochial School and Lincoln High School in Jersey City, Lt. Hanley received his law degree from the New Jersey Law School in 1929. He was admitted to the New Jersey Bar in 1930 and practiced with Joseph F. S. Fitzpatrick, former secretary of state, and John A. Lombardy, in Jersey City. He was a member of the Hudson County Bar association and Jersey City Council 137, Knights of Columbus.
Services were held in All Saints Church, Jersey City.
He is survived by his wife, an industrial nurse w/National Radio Corp. in Newark, his parents, a sister and three brothers.
---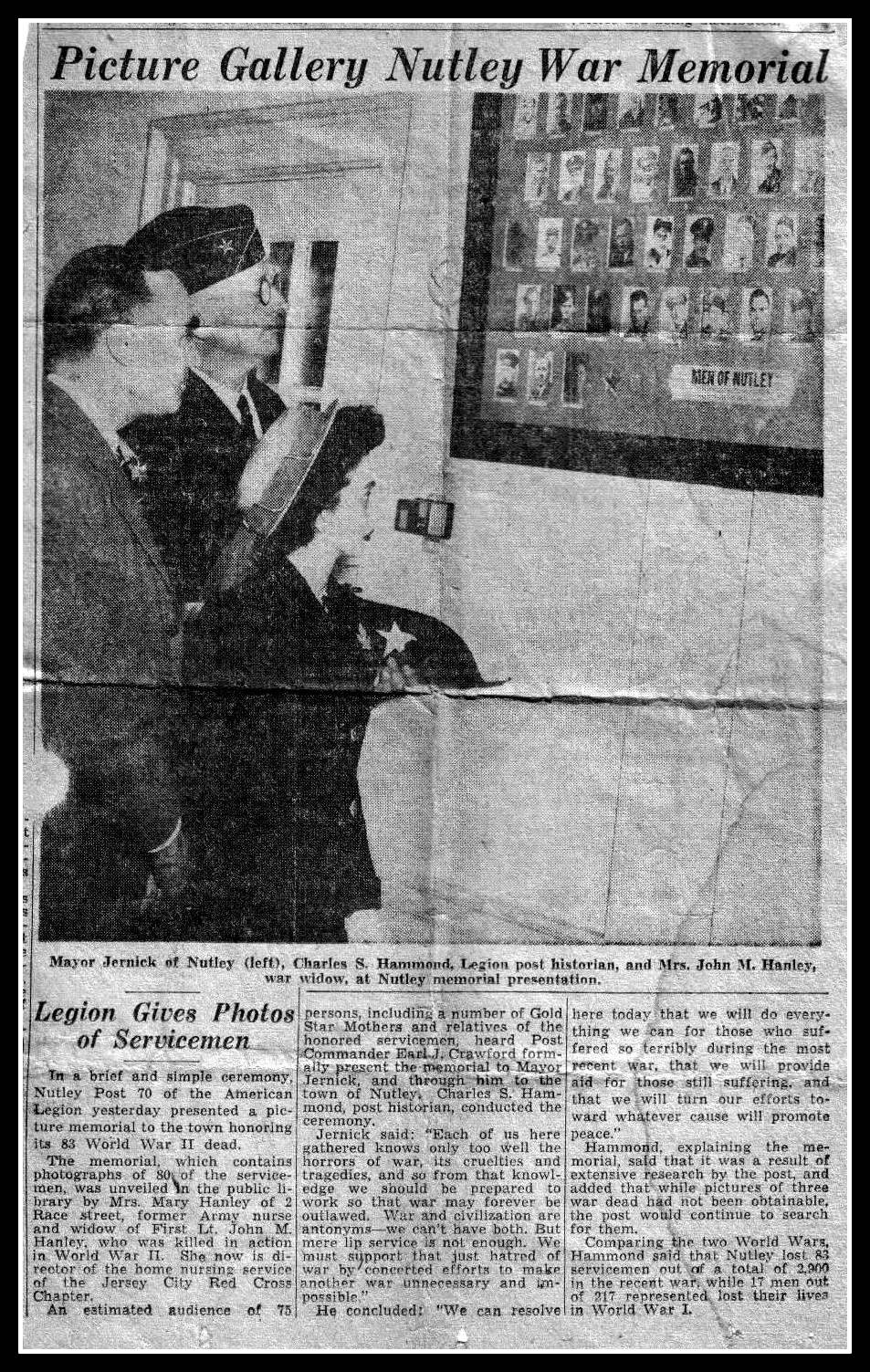 American Legion Post 70 Gives Photos of Servicemen to Town Honoring 83 WW II dead.
In photo, from left, Mayor Jernick, Charles S. Hammond - Legion Post historian, and
Mrs. John M. Hanley, war widow, at Nutley memorial presentation.
---
The Nutley Sun, Dec. 8, 1944, Jan. 21, 1945
LT. HANLEY IS REPORTED KILLED
American Legion Post 70 Memorial