(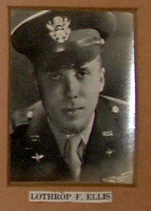 July 20, 1945) - First Lt. Lothrop F. Ellis, 25, of the Army Air Force, formerly of Mountainview avenue, was killed in a plane crash Tuesday, July 17, three miles from the B-29 Bomber Base at Salina, Kan., where he was radar maintenance officer.

A veteran of 55 missions in the European and Mediterranean theatres, Lt. Ellis, who was with the 15th AAF as a pilot of a P-38 fighter plane, had been awarded the Distinguished Flying Cross and the Air Medal with eleven Oak Leaf Clusters.

Lt. Ellis was graduated from Nutley High school and afterward attended Perkiomen school in Pennsylvania. He attended Georgia Tech and enlisted while a student there.
From The Nutley Sun, July 20, 1945
LIEUTENANT L. F. ELLIS KILLED IN CRASH
American Legion Post 70 Memorial
---
---
---