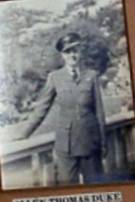 (September 10, 1943) -- Flying Officer Allen T. Duke, Jr., a member of the Royal Canadian Air Force, was killed in action overseas on August 17.
He was buried in an Air Force Cemetery in Oxford, England, on Aug. 21.
Duke was born in London, March 3, 1929, and came to this country as a youth and later lived in Nutley.
---
From The Nutley Sun, September 10, 1943
MEMORIAL FOR ALLEN DUKE JR.
Killed In Action Overseas,
Rites Sunday For Former Resident