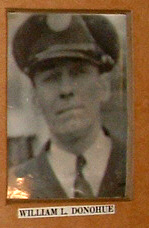 (October 2, 1942) -- Mrs. Mary Donohue, 70 years old, and a widow for 23 years, still has hopes for her sailor son, although the navy department this week announced he was lost when the oil tanker on which he served was torpedoed and sunk last January.
The tanker Astral was reported hit by a torpedo and sunk on Dec. 2, 1941, killing all 37 aboard.
Thirty-nine years old, and a native of Portchester, N.Y., William J. Donohue, entered the navy during the last war and had followed the sea ever since.

Never a permanent resident here, Donohue listed his mother's address as his home and had visited here.
---
From The Nutley Sun, October 2, 1942
Widowed Mother Hopes For Lost Seaman-Son
Thinks Tanker Victim May Be On Uninhabited Island Or Prisoner On Sub
American Legion Post 70 Memorial
U.S. Merchant Marine Casualties - Listing
U.S. Merchant Marine Casualties during World War II
U.S. Merchant Vessel War Casualties of WWII Robert M. Browning, Jr., Naval Institute Press, ISBN 1-55750-087-8