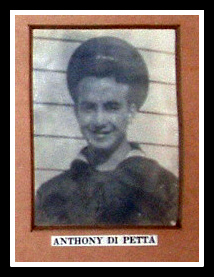 (Nov. 10, 1944) - Mr. and Mrs. Sisto Di Petta of 9 Columbia Avenue, who were informed that their son, Aviation Ordnanceman 1/c Anthony Di Petta, was missing in action, have received a letter from his commanding officer, Lt. Commander S. L. Prickett, USN, telling that he was lost in an airplane crash at sea.

Young Di Petta who has served five years in the Navy was attached to a Torpedo Squadron of the Air Force when he was lost in action.
From The Nutley Sun
Nov. 10, 1944 - ANTHONY DI PETTA IS BELIEVED DEAD
October 12, 1945 - ANTHONY DI PETTA OFFICIALLY DEAD
---
AOM1C ANTHONY -- DIPETTA
On January 3, 2023, the Defense POW/MIA Accounting Agency (DPAA) identified the remains of Aviation Ordnanceman First Class Anthony Di Petta, missing from World War II.
Aviation Ordnanceman First Class Di Petta entered the U.S. Navy from New Jersey and served in Torpedo Squadron 20.
On September 10, 1944, he was one of three crew members on a TBM-1 Avenger (Bureau Number 17018) that took off from the USS Enterprise for a strike mission against Japanese forces in the Palau Islands.
The plane was last seen spinning violently before crashing into the water near Malakal Island. Starting in 2003, the BentProp Project, an independent third-party organization, investigated the loss of this aircraft.
A total of four BentProp Project investigations and two Defense POW/MIA Accounting Agency (DPAA) investigations resulted in the location of a site about 200 meters from the shore of Malakal Island.
The site was excavated in 2019 and 2021, yielding possible human remains and material evidence. The materials recovered were accessioned into the DPAA Central Identification Laboratory for further study. The laboratory analysis and the totality of the circumstantial evidence available established an association between the remains recovered from the site and AOM1c Di Petta.
---
PRESS RELEASE | March 10, 2023
Sailor Accounted For From World War II (Di Petta, A.)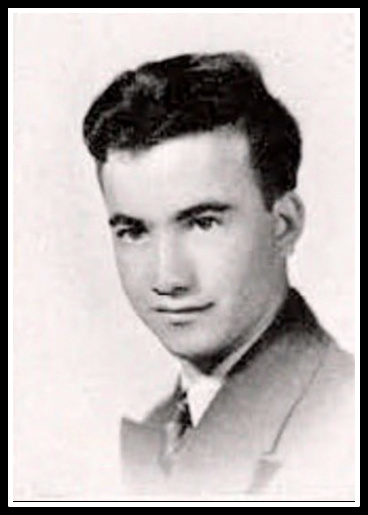 WASHINGTON – The Defense POW/MIA Accounting Agency (DPAA) announced today that U.S. Navy Aviation Ordnanceman First Class Anthony Di Petta, 24, of Nutley, New Jersey, killed during World War II, was accounted for Jan. 3, 2023.
In the fall of 1944, Di Petta was the Aviation Ordnanceman assigned to the Navy Torpedo Squadron 20, USS Enterprise. On Sept. 10, Di Petta and two other crew members abroad the TBM-1C Avenger Bureau Number, 17018 took off from the USS Enterprise on a mission to conduct air strikes against enemy targets in Malakal Naval District, Palau Islands. Their aircraft was struck by enemy anti-aircraft fire and crashed into water near Malakal. Efforts to recover Di Petta's remains were unsuccessful.
Following the war, the American Graves Registration Service, the organization that searched for and recovered fallen American personnel, conducted exhaustive searches of battle areas and crash sites in Palau, concluding their search in the summer of 1947. Investigators could not find any evidence of Di Petta or his aircraft. He was declared non-recoverable July 16, 1949.
From 2003 – 2018, the BentProp Project now known as Project Recover, and the Defense POW/MIA Accounting Agency (DPAA) conducted six investigations resulted in the location of a site associated with the incident.
In May 2019, Ships of Exploration and Discovery Research, a DPAA partner organization excavated the site and recovered remains and material evidence.
In Sept. 2021, a subsequent excavation was completed by Project Recover, a nonprofit organization that works to search and recover missing Americans, where additional remains and material evidence were recovered.
Remains and material evidence were sent to the DPAA laboratory at Joint Base Pearl Harbor-Hickam, Hawaii, for analysis.
To identify Di Petta's remains, scientists from DPAA used dental analysis. Additionally, scientists from the Armed Forces Medical Examiner System used mitochondrial DNA (mtDNA) analysis.
Di Petta's name is recorded on the Walls of the Missing at the Manila American Cemetery and Memorial, an American Battle Monuments Commission site in the Philippines, along with others still missing from WWII. A rosette will be placed next to his name to indicate he has been accounted for.
Di Petta's burial date and location is yet to be determined.
For family and funeral information, contact the Navy Service Casualty office at (800) 443-9298.
DPAA is grateful to Project Recover, Ships of Exploration and Discovery Research and to the government of Palau for their assistance in this recovery.
For additional information on the Defense Department's mission to account for Americans who went missing while serving our country, visit the DPAA website find us on social media.
---
American Battle Monuments Commission
American Legion Post 70 Memorial
Defense POW/MIA Accounting Agency
World War II National Memorial
World War II Honor List of Dead and Missing,
State of New Jersey, War Dept. June 1946