Capt. Van Divort Killed in Stateside Air Crash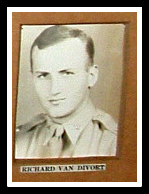 (Dec. 21, 1945) – Captain Richard Van Divort was killed in a routine flight over Forestall, Mo., in October 1943. The son of Mr. and Mrs. S. E. Van Divort, of 25 Oak Ridge Avenue, Capt. Van Divort was a graduate of Nutley High.
The late captain's mother was presented posthumous awards of the Distinguished Flying Cross and the Air Medal with one silver cluster and one bronze oak leaf cluster.
The citation read: "For extraordinary achievement while participating in aerial flight of a B-25 type aircraft. On 26 May 1943, Captain Van Divort flew as flight leader in a formation attacking an enemy air dome at Porte Olivo, Sicily.
"Upon the approach of the target, intense anti-aircraft fire enveloped the formation, destroying one B-25, and damaging many others. Displaying great courage and determined leadership in the face of this strong resistance, Captain Van Divort maintained his plane in lead position for a perfect run over the objective.
"With all bombers releasing on the flight bombardier's sightings, a compact pattern of bombs in the target area contributed to the destruction of nine enemy aircraft and heavy damage inflicted on other vital military installations. On many combat missions, his outstanding proficiency and steadfast devotion to duty have reflected great credit upon himself and the armed forces of the United States."
The officer entered service in 1941, and left Westover Field, Springfield, Mass., for overseas duty in the European Theater where he participated in the bombings of Pantelleria, Sardinia, Sicily and Southern Italy. He was part of the air force that attacked the Germans at Tunisia and in the Allied chase of Field Marshall Erwin Rommel in North Africa. He helped shoot down German transport planes.
A flight leader of six B-25 bombers, Capt. Van Divort sank one Axis cruiser and 12 merchant ships in three days and one Axis cruiser and two other ships on another occasion. He completed 55 missions.
Upon his return to the States in June 1943, Van Divort was selected to attend the Army Air Force Command School at Orlando, Fla. He went to Fort Leavenworth, Kan., Command Staff School.
He was Gamma Delta Phi president at Dartmouth College. Van Divort was engaged to marry Miss Miriam Richmond of Mobile, Ala., daughter of Col. and Mrs. J. L. Richmond of Montgomery, Ala.
---
American Legion Post 70 Memorial
Nutley Historical Society photo archives
The Nutley Sun
World War II Honor List of Dead and Missing,
State of New Jersey, War Dept. June 1946
World War II National Memorial