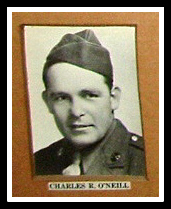 Pfc. Charles (Scotty) O'Neill, 30, son of Mrs. Ann O'Neill, of 14 Crestwood Ave., was killed July 14 in France.
His wife, Mrs. Marion Murphy O'Neill of Greylock Avenue, Belleville, received the word from the War Department. No details were given in the telegram.
Pfc. O'Neill had been in service 28 months and overseas about 18 months. He was attached to an artillery unit of the Second Armored Command.
His marriage took place on Nov. 26, 1942, at St. Mary's Church, shortly before leaving this country.
American Legion Post 70 Memorial
Andy Andriola, oral history, November 2003
Blue Star Mothers Album
World War II Honor List of Dead and Missing,
State of New Jersey, War Dept. June 1946