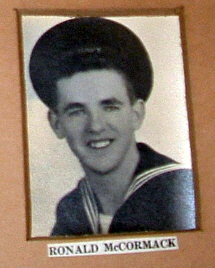 THE NUTLEY SUN
(July 20, 1945) -- Official word of the death of Seaman Second Class Ronald Frederick McCormack has been received by his parents, Mr. and Mrs. R. Frank McCormack of Church Street, it was revealed this week.
Seaman McCormack was reported missing on June 9, 1944, after he participated in the D-Day invasion of Normandy. He was aboard LST 314.
Besides his parents, he is survived by a sister, Muriel.
---
The Nutley Sun, July 20, 1945
Nutley Sailor Lost Life
As his D-Day Ship Sunk
American Legion Post 70 Memorial
National World War II Memorial
World War II Honor List of Dead and Missing,
State of New Jersey, War Dept. June 1946
Has listing under Robert Frederick McCormack of same address