Pfc. Carl L. Hansen, of 17 De Vausney Place, Nutley, N.J., was killed in action in Reipertswiller, Departement du Bas-Rhin, Alsace, France, on Jan. 17, 1945.
The soldier was killed when five companies of the 45th Division's 157 regiment managed to penetrate German defensive positions and were cut off by the elite 6th SS Mountain Division.
After three days, with food running low and small arms growing short, the remaining soldiers formed a small defensive perimeter, placing the wounded in foxholes so they could be cared for by those still fighting.
By Jan. 20, the end was near and with only 125 able-bodied soldiers left, they attempted to infiltrate out. No one wanted to surrender to the SS after the news of the Malmedy Massacre in the Ardennes had spread. But in the end only two men reached Allied lines. Casualties for the month were 32 KIA, 24 WIA, 472 MIA and 70 known prisoners.
Pfc. Hansen was awarded the Bronze Star and the Purple Heart.
Born in 1908 in Montgomery County, Pennsylvania, his parents, Frederick J. and Laura G. Hansen, had emigrated from Denmark.
He enlisted from Essex County, N.J., on April 10, 1944.
Hansen served in the 157th Infantry Regiment, 45th Infantry Division. His service number is 42115300. He is interred at Plot A Row 24 Grave 25, Epinal American Cemetery, France.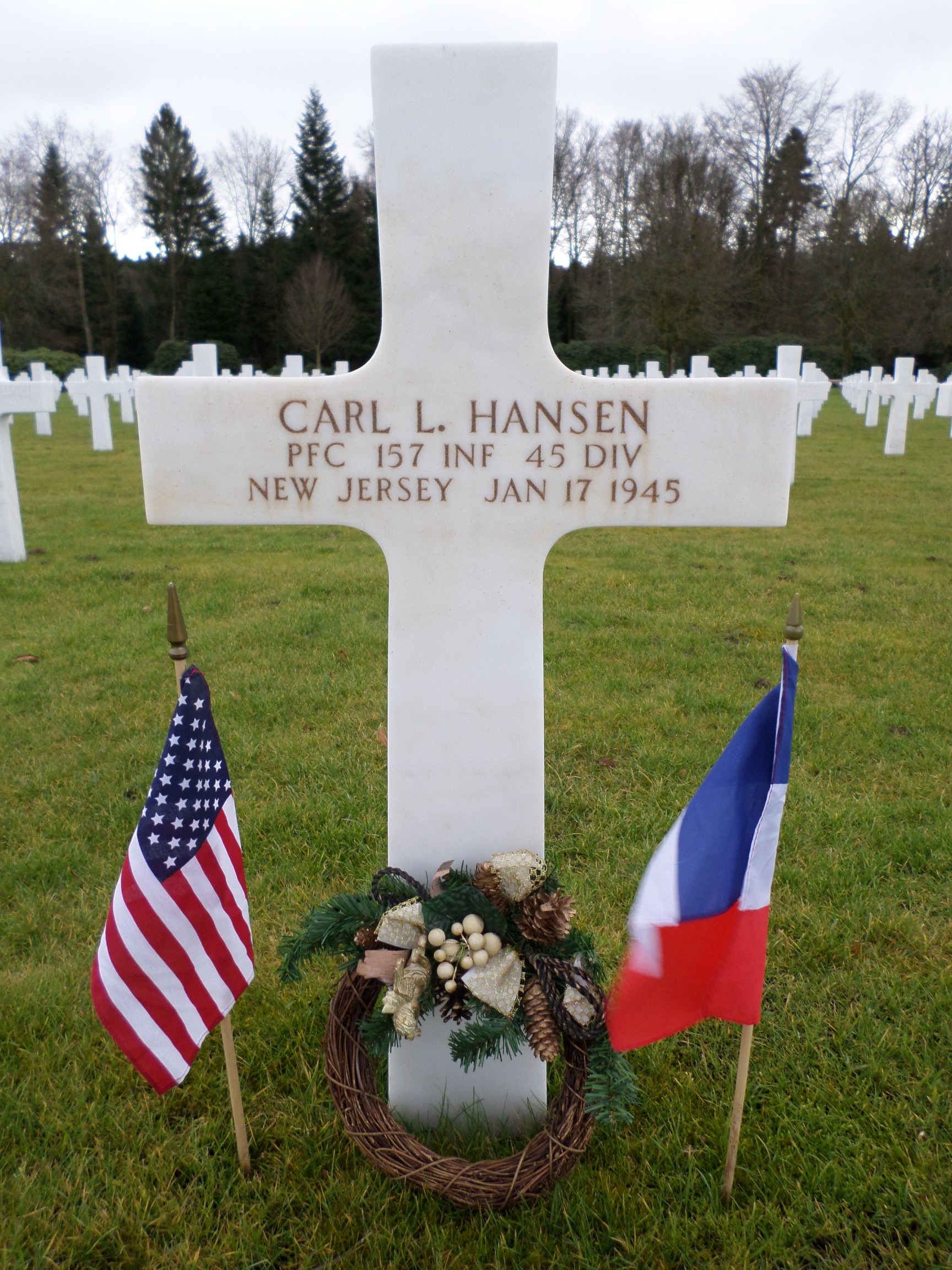 The Epinal American Cemetery and Memorial in France, 48 acres in extent, is sited on a plateau 100 feet above the Moselle River in the foothills of the Vosges Mountains. It contains the graves of 5,255 of our military dead, most of whom lost their lives in the campaigns across northeastern France to the Rhine River and beyond into Germany.
The cemetery was established in October 1944 by the 46th Quartermaster Graves Registration Company of the U.S. Seventh Army as it drove northward from southern France through the Rhone Valley into Germany.
The cemetery became the repository for the fatalities in the bitter fighting through the Saverne Gap, and in defense of Allied positions in the Vosges region, during the winter of 1944-1945.
---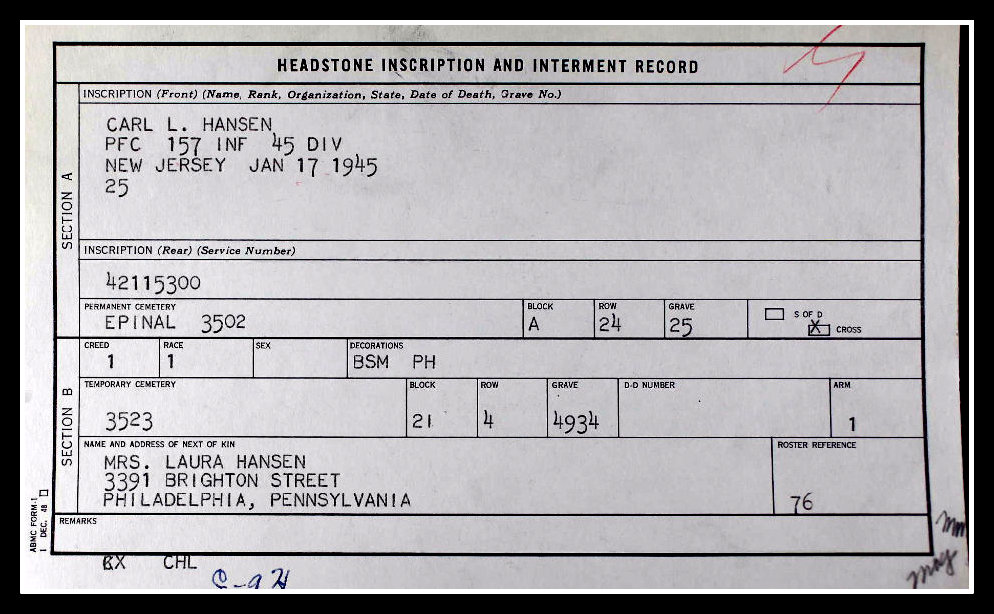 ---
Sources
1910 United States Federal Census
1940 United States Federal Census
American Legion Post 70 Memorial
Global, Find A Grave Index for Burials at Sea and other Select Burial Locations, 1300s-Current
National Archives & Records Administration, War Department Files
National World War II Memorial
U.S., Headstone and Interment Records for U.S. Military Cemeteries on Foreign Soil, 1942-1949
U.S. Rosters of World War II Dead, 1939-1945
WWI, WWII, and Korean War Casualty Listings