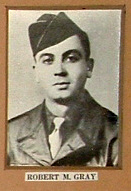 (June 22, 1945) - The War department has informed Mr. and Mrs. E.A. Gray of Mapes avenue of the death of their son Pfc. Robert M. Gray, a prisoner of war of the Germans, April 19 somewhere in the European area.
On Jan. 8, in action near Phillipsbourg, France, he was captured and sent as a prisoner of war to Stalag 1X-B at Bad Orb.

One letter which he had written from the prison camp in January reached his parents in late April.
Shortly after that letter was written, he was sent out with a labor battalion and all contact was lost. Nothing has been heard from him since the letter was received.
---
From The Nutley Sun, June 22, 1945
LOCAL POW DEAD PARENTS ARE TOLD
American Battle Monuments Commission
American Legion Post 70 Memorial
National World War II Memorial
---
Read Bad Orb survivor Harry Bell's account in
Forgotten Heroes of World War II - Personal Accounts of Ordinary Soldiers by Thomas E. Simmons