(Jan. 19, 1945) -- Pfc. Malcolm Christopher, son of Mr. and Mrs. Harry C. Christopher of Chestnut street was reported missing in the European area.
Pvt. Christopher is a graduate of Nutley High school, class of 1942. Before entering service, he was employed at Hoffman-La Roche.
Christopher was aboard the Belgian troopship Leopoldville when it was sunk by a German submarine on Christmas Eve killing 802 men of the 2,235 aboard.
Christopher served in the 264th Infantry Regiment, 66th Infantry Division. He received the Purple Heart. He is listed on the Tablets of the Missing at Normandy American Cemetery, St. Laurent-sur-Mer, France.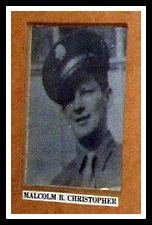 A longer biography appears in
NUTLEY SONS HONOR ROLL Remembering the Men Who Paid for Our Freedom
---
From The Nutley Sun
January 19, 1945
Pfc. Malcolm Christopher, Thurston Woodford Missing

March 30, 1945
Pfc. CHRISTOPHER KILLED IN ACTION
American Battle Monuments Commission
American Legion Post 70 Memorial
Final Crossing of the Leopoldville, Battle of the Bulge: December 24, 1944, Disaster for the 66th Infantry Division