Charles Braun Was gunner on Bomber
Flying from Barksdale Field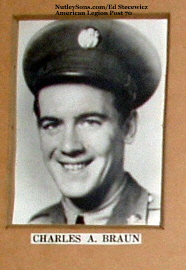 NEWARK NEWS (Sept. 3, 1943) - Mrs. Willis C. Breyfolgle of 134 Rutgers Place, Nutley, was notified yesterday by the War Department her son, Sgt. Charles A. Braun, 19, had died as result of an Army bomber crash Wednesday near Belcher, La. Sgt. Braun was stationed at Barksdale Field, Shreveport, La.
The Nutley youth enlisted in the Army Air Forced in March 1942. He was born in Newark and had lived in East Orange and Arlington before his family moved to Nutley three years ago. At Nutley High he played football.
Sgt. Braun leaves also a brother William; a sister Marilyn, both of the Nutley address; his step-father, Willis C. Breyfogle, and a half-brother, Cpl. Millard Breyfogle, an Army Air Forces instructor at Orlando, Fla. His father, William Braun, veteran of World War I, died nine years ago.
Newark News, Sept. 3, 1943
---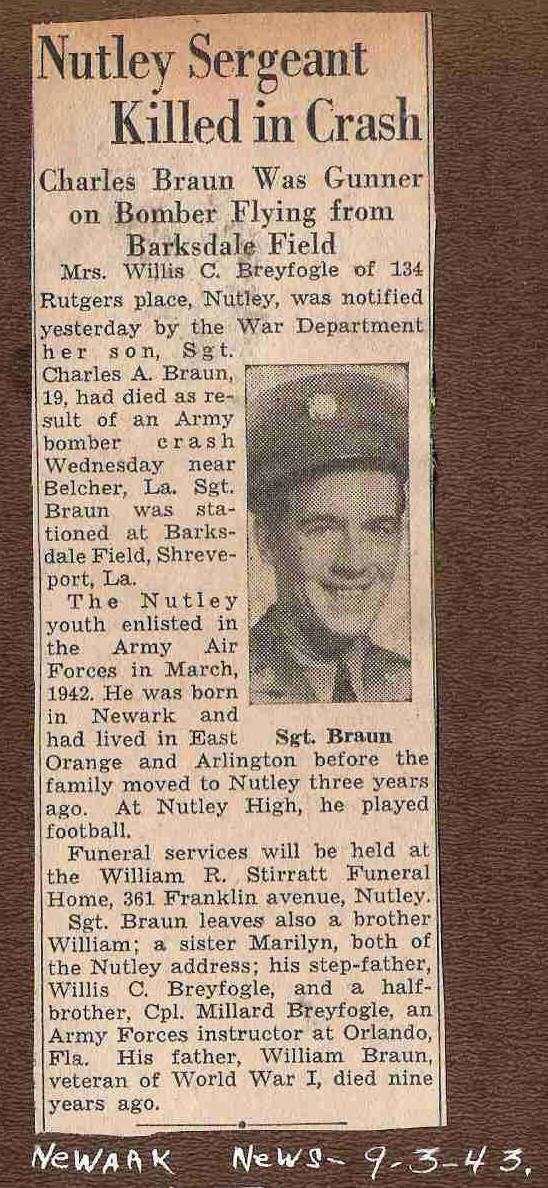 ---
SGT Charles A. Braun
ID: 12051528
Branch of Service: U.S. Army
Hometown: Essex County, NJ
Status: DNB (Died non-battle)
---
American Legion Post 70 Memorial
Blue Star Mothers of Nutley WWII Memoir
National World War II Memorial
Newark News, Sept. 3, 1943