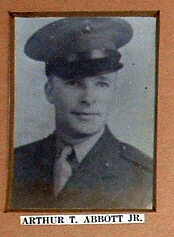 THE NUTLEY SUN (April 6, 1945) - Mr. and Mrs. Arthur T. Abbott of 32 Chestnut Street, the parents of Pfc. Arthur T. Abbott Jr., 24, were informed last week the Marine had been reported killed in action at Iwo Jima on March 4.

He attended Nutley High school and Johns Hopkins in Baltimore, Md.

His wife is the former Shirley Slater of Montclair, and their two-year-old son Arthur 3rd. He has one brother, Robert, a student at Nutley High school, and a sister Mrs. Frederick Heany of Nutley.
---
From The Nutley Sun, April 6, 1945: TWO MARINES LOSE LIVES ON IWO JIMA
American Legion Post 70 Memorial
Nutley Historical Society photo archives
---
Read Iwo Jima survivor Dee Hamilton's account in
Forgotten Heroes of World War II - Personal Accounts of Ordinary Soldiers by Thomas E. Simmons