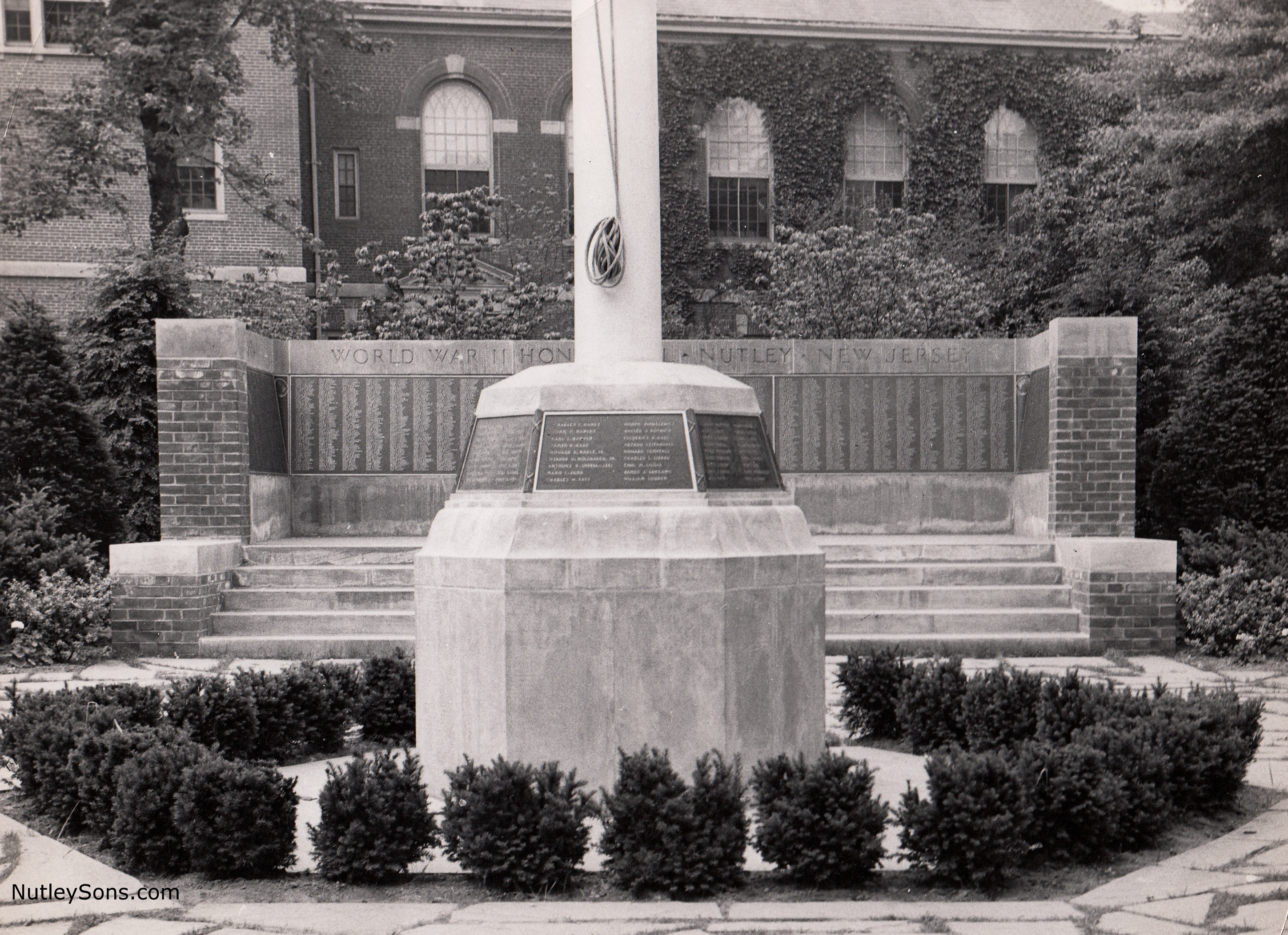 This memorial was rededicated on November 11, 2000,
after funds were raised to refurbish the monument.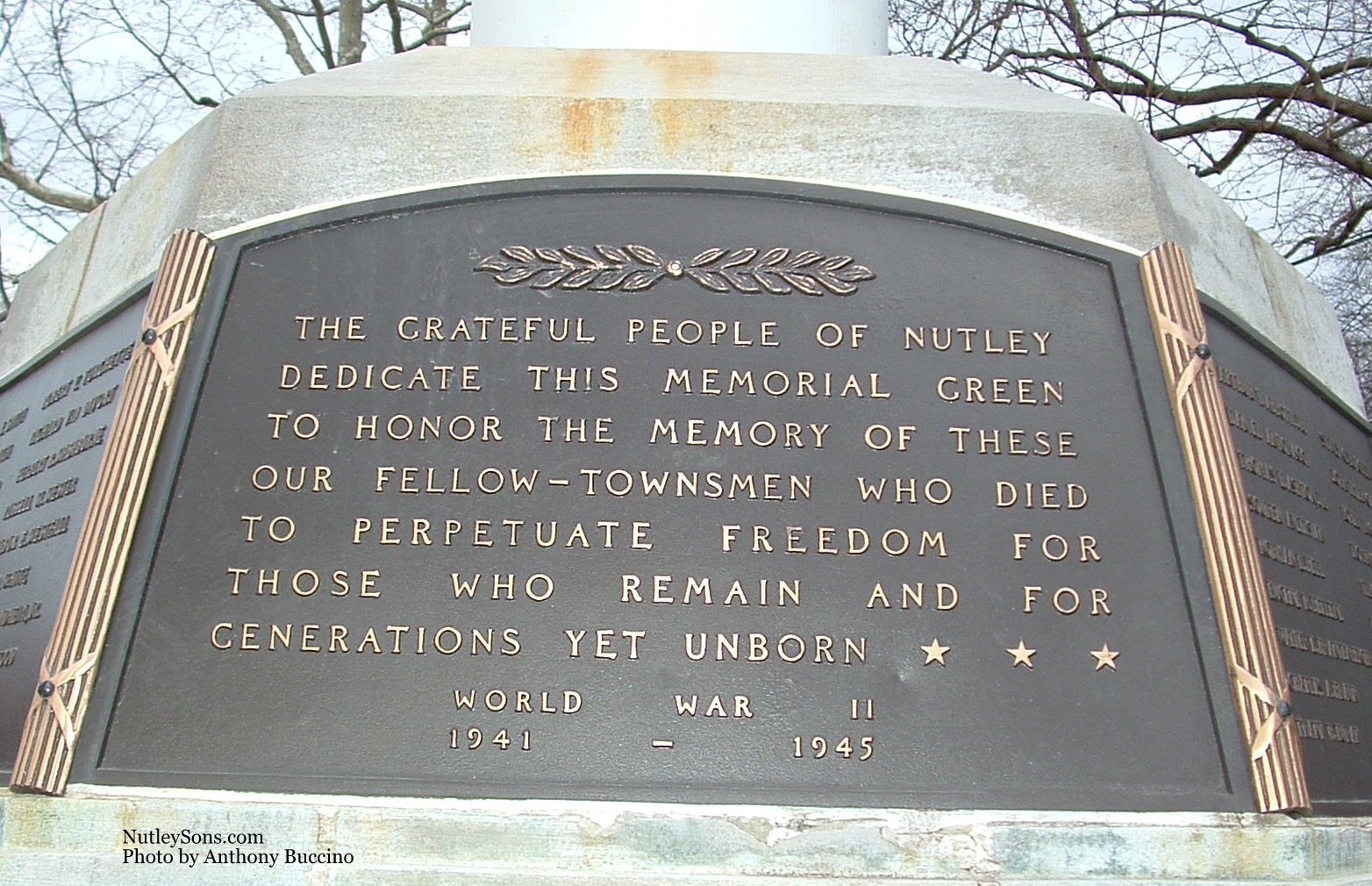 The flag pole and pedestal memorial were destroyed during Hurricane Sandy.
The memorial was rebuilt in time for Memorial Day ceremonies in May 2014.
Photos are of the original monument pre-hurricane.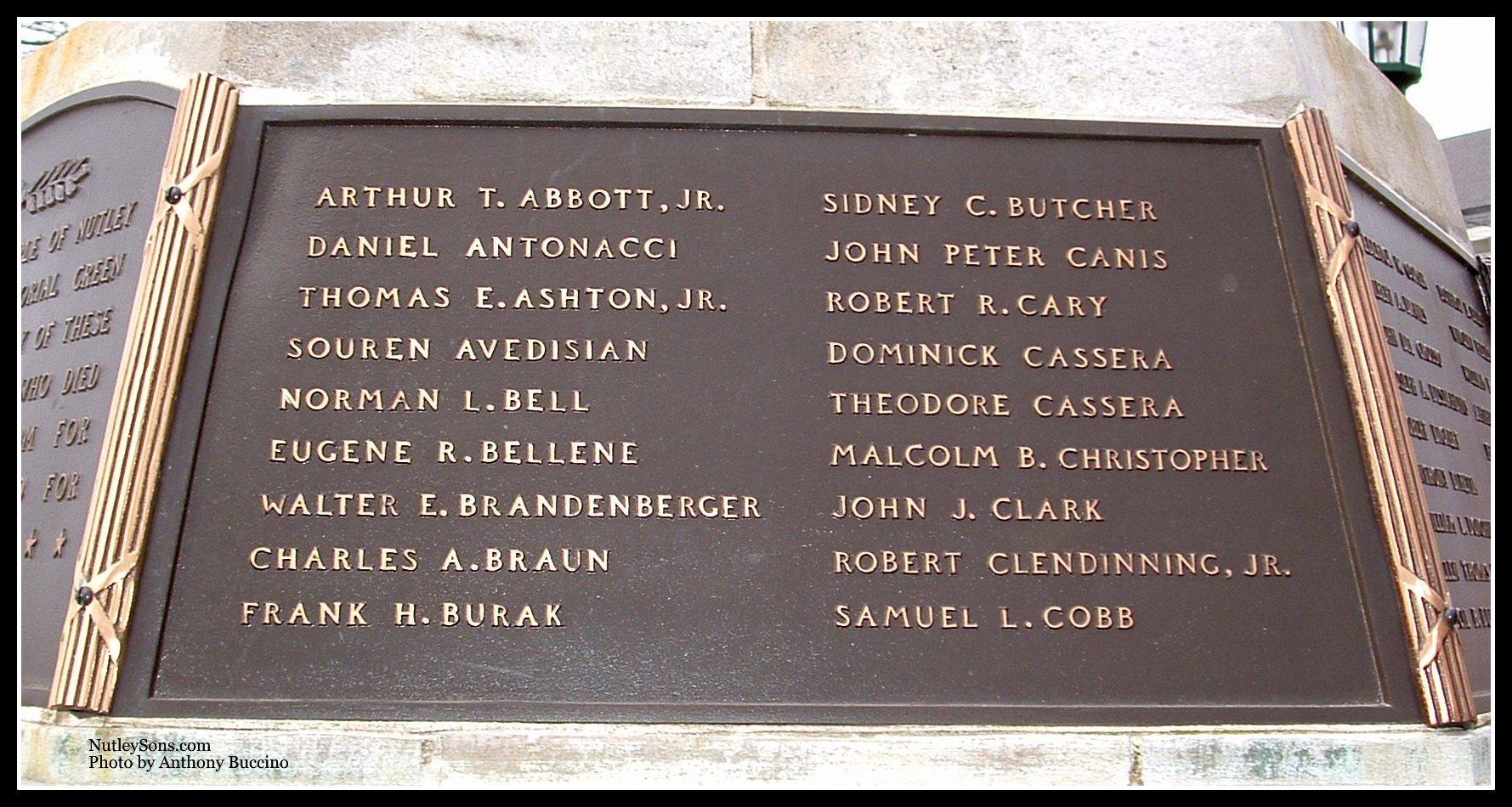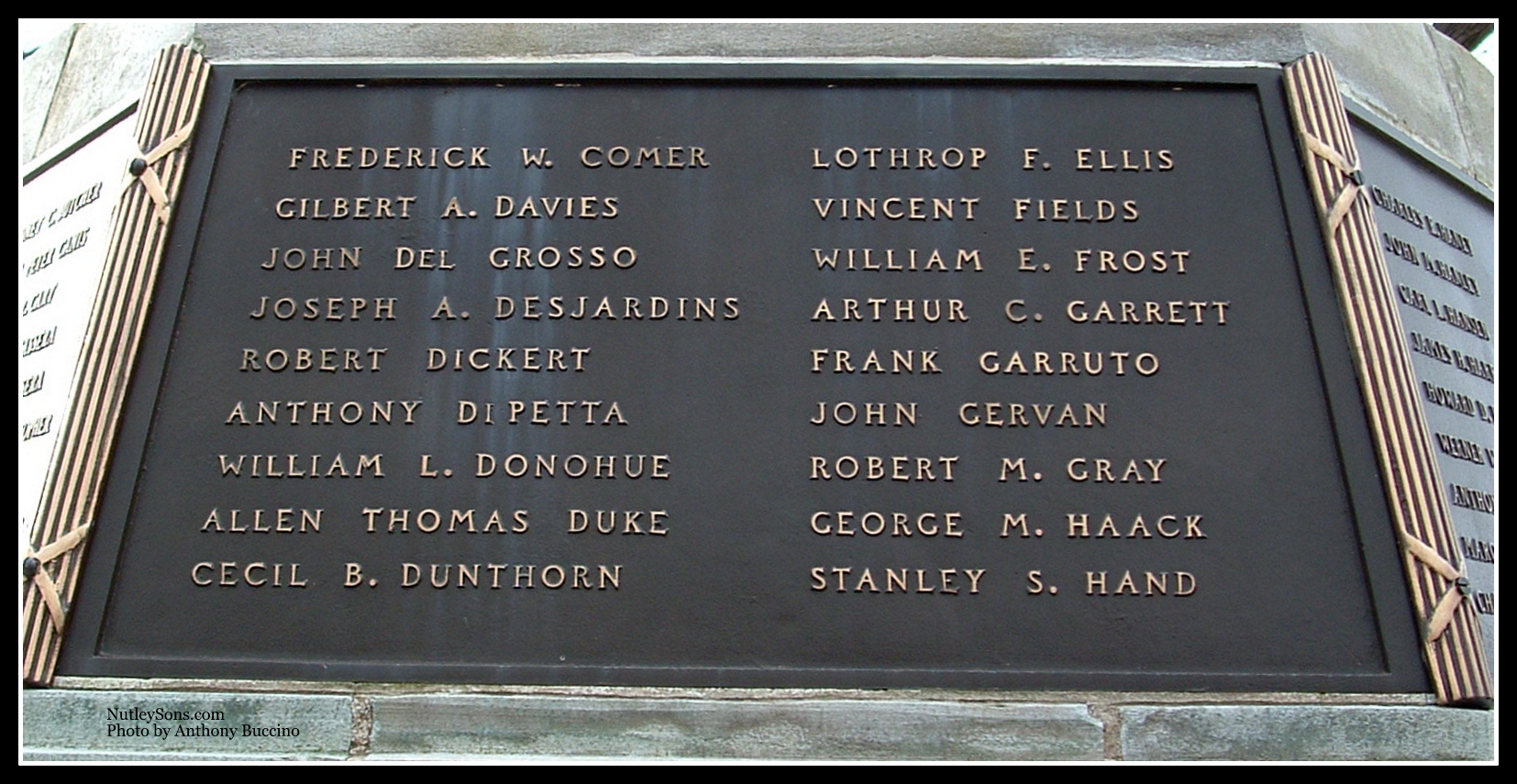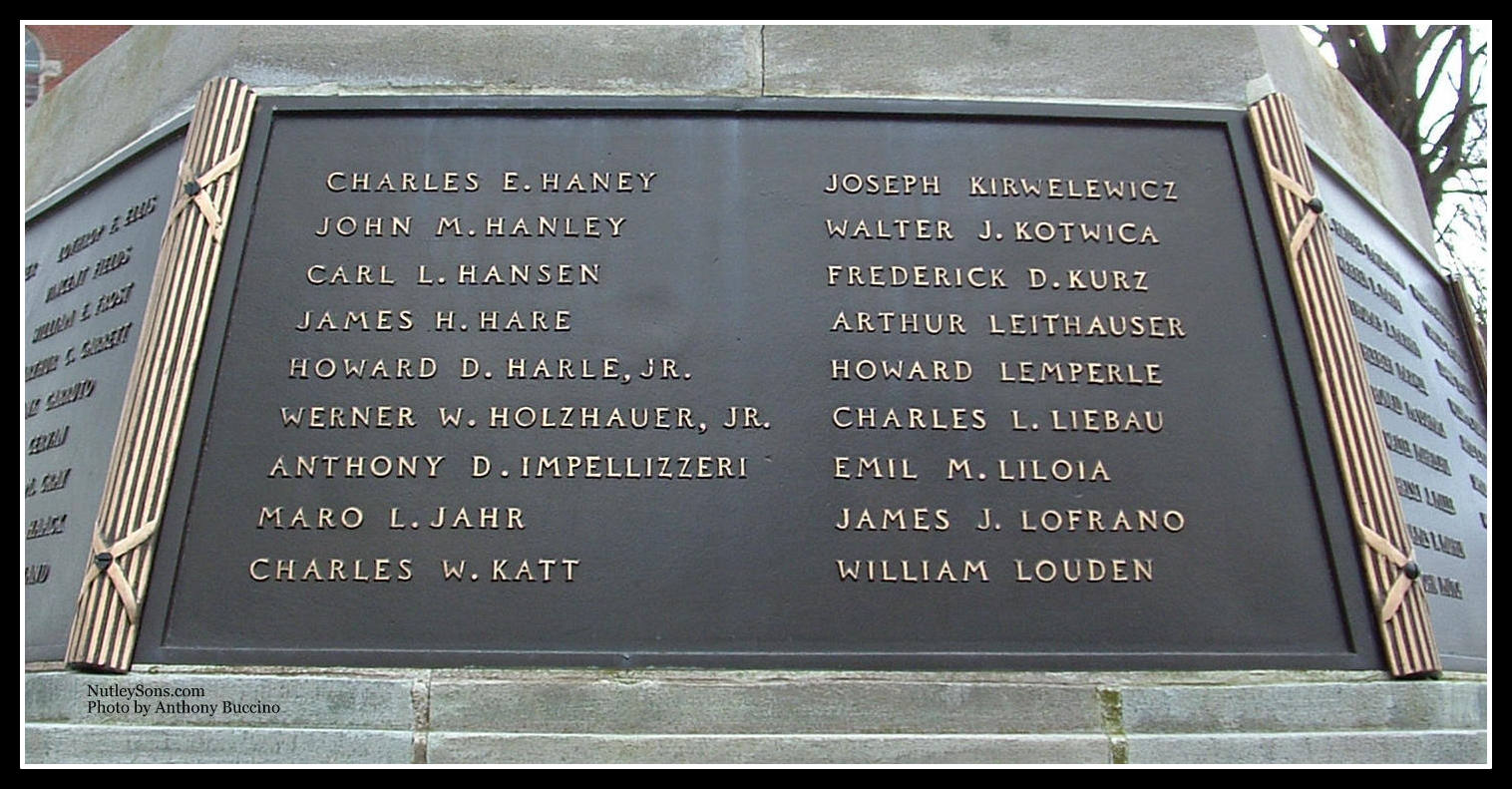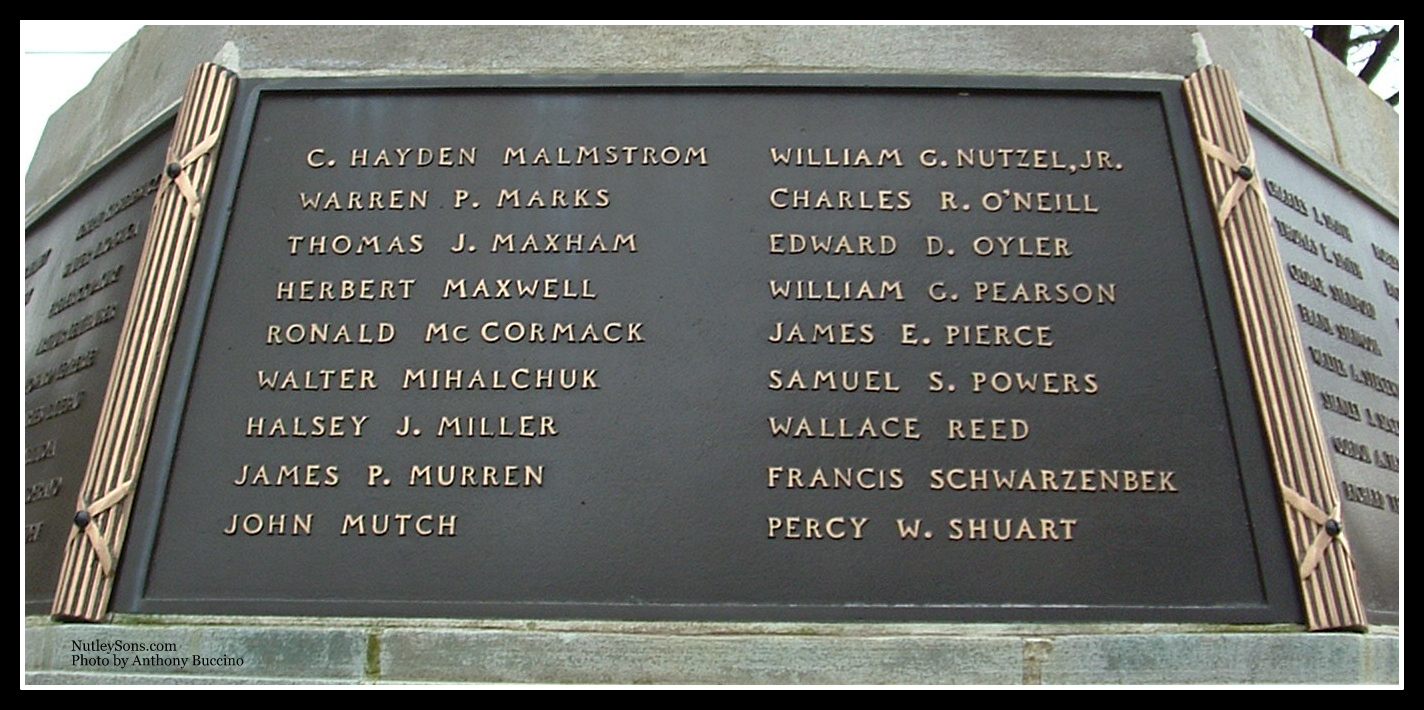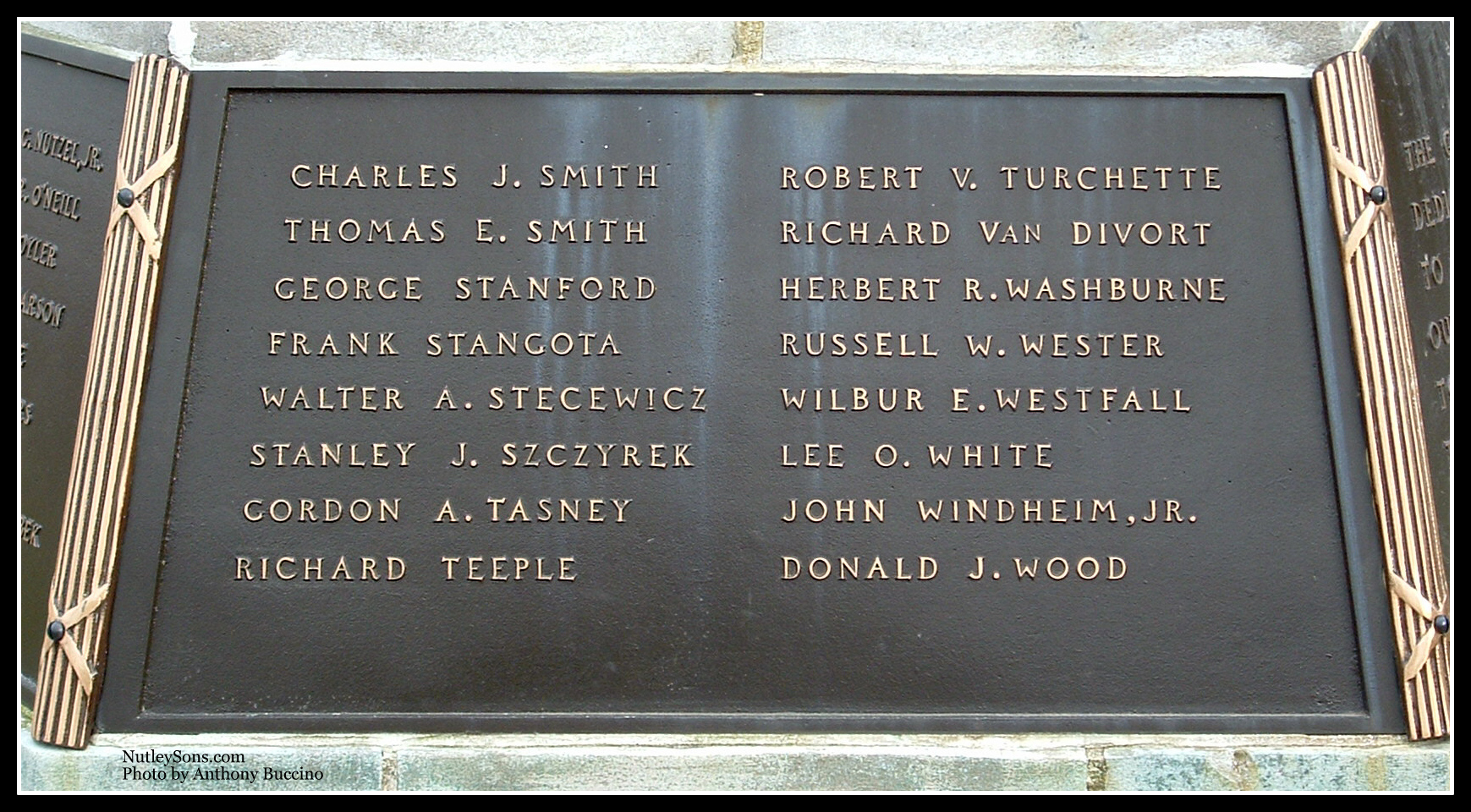 Photos © 2002 by Anthony Buccino
---
Armistice Day 83 Years Later
Nutley Re-Dedicates World War II Monument to Veterans
NJHometown News, Nov. 11, 2000 -- Mayor Peter Scarpelli rededicated Nutley's World War Two Monument this afternoon in a highly emotional Veterans' Day program witnessed by nearly 300 veterans and grateful citizens.
"Nearly 3,000 young people from our town went to war," Mayor Peter Scarpelli reminded.
"That meant that every 7th person from Nutley joined the fight. The danger to our country was real and it was serious," Scarpelli recalled.
"This memorial rightfully will stand for generations, reminding us that freedom isn't free," the mayor continued. He asked those attending to "come back here again and again and pause for a moment to reflect upon the sacrifices these veterans made for us
"It is my honor to rededicate Nutley's World War Two Monument to the brave men and women who fought to make this world safe for democracy."
The hour-long program presided over by retired Navy Captain Frank Garruto included remarks from three well known veterans – Assemblyman John Kelly, Public Safety Director Carmen Orechio, and Police Sergeant Steve Rogers, a lieutenant in the Navy Reserve. Commanders of the Nutley Veterans Council, AMVETS, VFW, and American Legion Posts read the names of the 88 Nutley residents who lost their lives in World War 11. As the names were read, a bell tolled over the sound of of a snare drum. And when the reading of the names ended, the Nutley High School choir responded, first with the hymn "Eternal Father" and then with the upbeat "God Bless the USA."
'The Greatest Generation'
Rogers called those who served in World War II "the greatest generation that ever walked the face of the earth. Hundreds and hundreds from our town committed their lives, their homes and their dreams to a nation which at the time of their service was faced by a brutal and vicious enemy. These men and women left their lives, their hopes and dreams and went to a faraway land in a faraway place that they never heard of and had never seen in their youth.
"Today in this new century, we live under the Stars and Stripes because they lived under the bombs and the bullets," Rogers said.
Commissioner Orechio noted the appropriateness of the dedication's physical setting, surrounded by a church, the town hall, the public safety building and the municipal court – "all things representative of the freedoms we fought to preserve." He asked for a renewed spirit to recall the sacrifices of those who fought in America's wars. "Unfortunately, too many people view these holidays as an opportunity for a three-day weekend rather than a commemoration of the great sacrifices so many men and women have made in war to preserve our freedoms."
Nutley's Wall of Heroes
Garruto called attention to "one of the most important parts of this World War II monument and that is the wall of heroes behind me which has been engraved with the names of the nearly 2,000 young men and women from Nutley who served in that great conflict. When you read those names, it's easy to recognize that so many of those who wore America's uniform came home to build today's community we call Nutley – one of the greatest communities in America today."
Also participating were VFW Post Color Guard under Capt. Andrew Vyniski, Nutley Girl Scouts under unit manager Mrs. Cheryl Josi, Boy Scout Troop 147 under Scoutmaster Tony Dalfino, Boy Scout Tro0p 142 under Scoutmaster Mark Pugliese.
Sam Vitale, sang the National Anthem. The Rev. Dr. Robert C. Cole, pastor of the First Baptist Church of Nutley, offered the invocation.
Others speakers included Leonard A. Peduto, chairman of the World War II Memorial Fund,, and the Rev. Msgr. Peter J. Zaccardo, pastor of Holy Family Church, who offered the Benediction.
The names of the 88 young men who were killed in World War II were read by Nelson W. Rummel, commander of AMVETS Post 30, Richard McClintick, commander of American Legion Post 70, Dennis M. Buesing, Commander VFW Stewart E. Edgar Post 493, and James J. Adams, president of the Nutley Veterans Council.
Among those seated on the dais were Commissioners Garry Furnari, Joanne Cocchiola and Mauro G. Tucci. Also introduced were those serving with Peduto on the World War II Memorial Committee: Dan Marese, co-chair, Nelson W. Rummel, Andy Andriola, Anthony Capriglione, retired Commissioner Frank A. Cocchiola, Ralph DeLibro,, Frank Lemma, James Orsini and Tom Pandolfi.
- Courtesy: Phil White, Nutley Hometown
---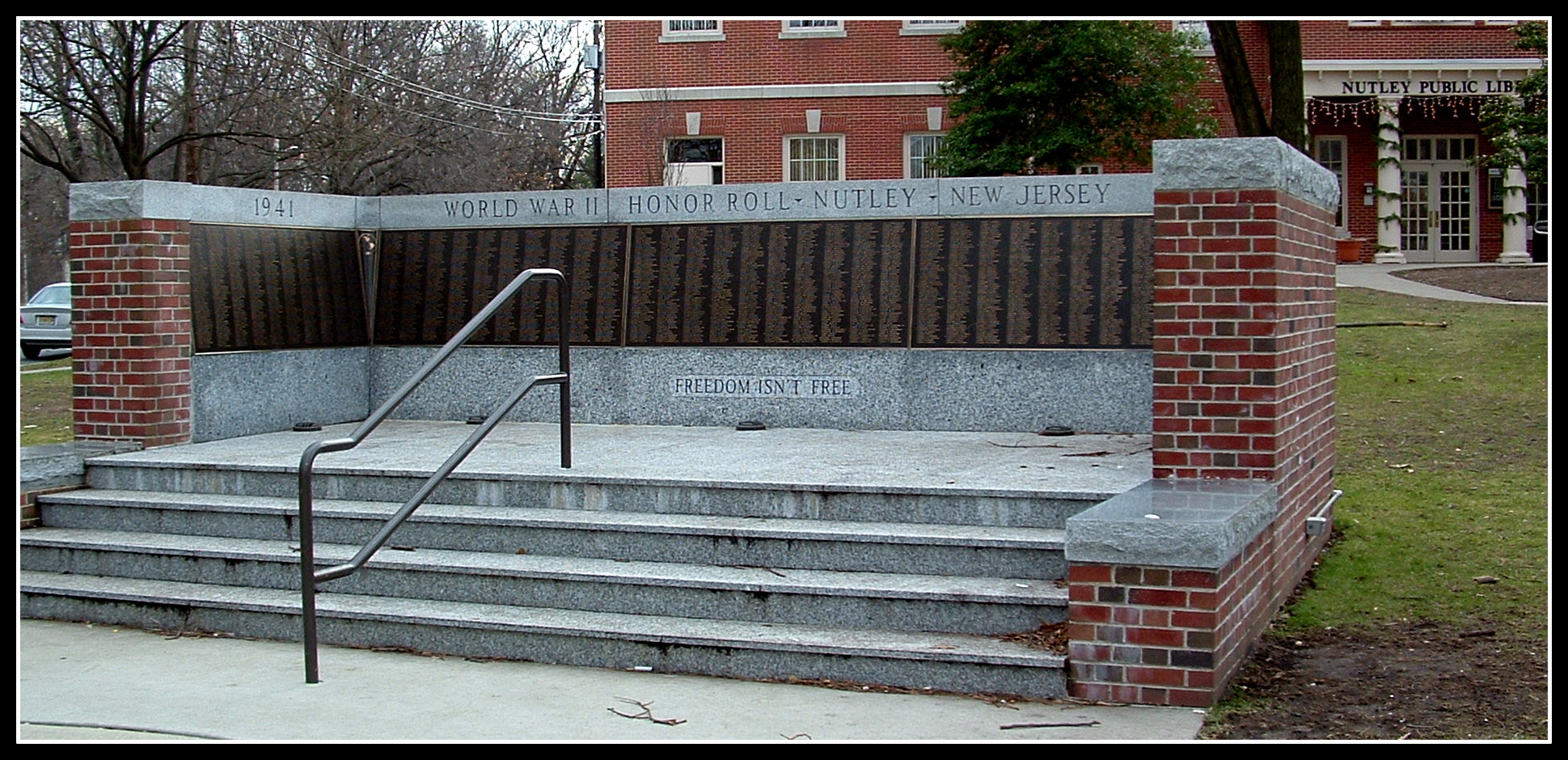 This three-panel monument lists all the Nutley Sons
who served in WWII. Monument close-up
---
---
Read More: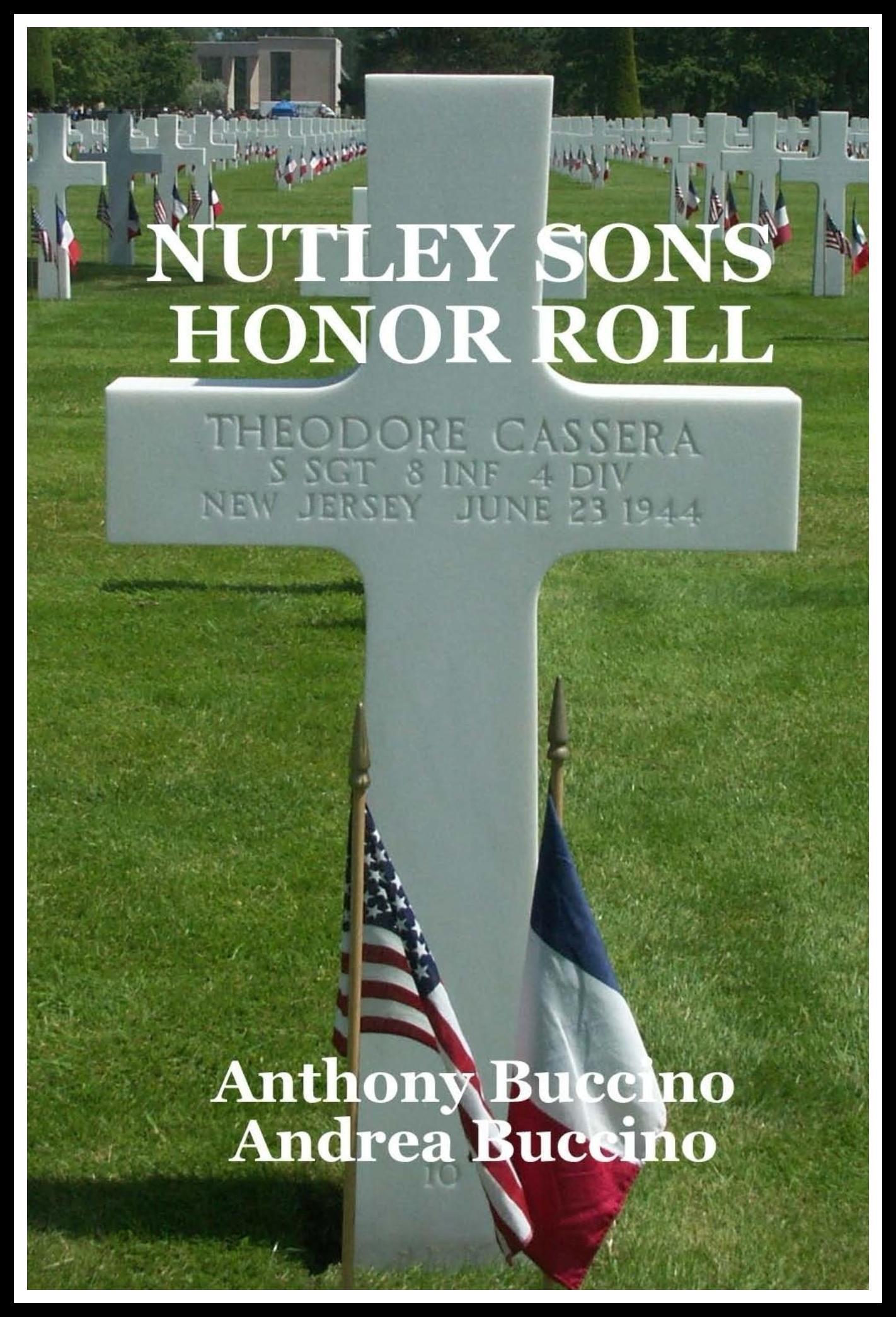 ---