Nutley Soldier Killed in War Near Buddies
(Feb. 2, 1967) Thomas Van Houten, 19, of Raymond Ave., a week ago became the third young man from Nutley to lose his life in the Vietnam War.
Van Houten, a private first class with the Army's Ninth Infantry Division was killed at 11:30 p.m. on Jan. 23, when a mortar or grenade exploded near his foxhole in the Mekong Delta.
Twin brother Richard, also serving in Vietnam, received the news of his brother's death from an Army chaplain the next morning. "I wanted to wait and come home with his casket," Richard said, "but the Army wasn't sure when that would be."
Richard arrived home last Thursday. His brother's body arrived home Sunday. Services, with full military honors, were held Tuesday afternoon.
The twins, sons of Mr. and Mrs. John Van Houten, had been together all their lives. They attended Spring Garden and Nutley High Schools.
Thomas and Richard were drafted together May 16, went through basic training at Fort Riley, Kan., before completing advanced infantry training at the same base.
Early last fall Thomas received orders for Vietnam. Robert was to have stayed behind in the States, but he didn't want to be separated from his brother and applied for special permission to be given a similar assignment. Ever since the Sullivan brothers died together aboard a ship in World War II, it has been Defense Department policy to have members of the same family sign a waiver before being assigned hazardous duty together.
Thomas and Richard were drafted with a class that included about a dozen Nutley boys and about the same number from Belleville. Most of this group is now in Vietnam. "Our unit was nearly 100 percent from New Jersey, and mostly from Nutley, Belleville and Newark," Richard told The Nutley Sun.
Further evidence of the number of local boys in the same Ninth Infantry Division came this week when several hand-written letters arrived in Nutley from young soldiers who told their parents of Thomas' death.
Richard is home on a 30-day hardship leave. He is applying for a compassionate reassignment at Fort Dix to preclude the possibility of "my parents having to suffer through another death in the family."
Because there are an unusually large number of Nutley and Belleville men assigned to the Ninth Infantry Division, the news of Thomas' being killed caused considerable unrest throughout the community.
The Ninth Infantry includes more than 1,000 men who last week moved into the Mekong Delta – about 50 miles southwest of Saigon. Last week's movement on the Ninth Infantry into the delta was called "a new phase in the Vietnam war." The move marked the first time the American troops were being permanently stationed in the rice-rich water logged countryside controlled for years by the Viet Cong.
Richard and Thomas were both automatic riflemen with the Fifth Battalion, 60th Infantry, Ninth Division. "We were in different platoons, but we saw each other every day," Richard said, recalling the scene in Vietnam.
"Our units were mechanized which means we rode aboard mechanized 'tracks' or APC's (Army Personnel Carriers). These tracks were able to go through swamps or any kind of terrain," he said.
"Our assignment was what they called a 'search and destroy mission' – find the Viet Cong and kill them. Actually we hardly ever saw any VC – they never seemed to be around except at night when you couldn't see them. That's when they hit you, at night.
"Tom was killed at night. He was the first guy from our company to be killed. We had a lot of casualties, but Tom was the first to die."
The day of Jan. 23 found Richard and Thomas with their unit about 12 miles from the village of Longbihn, about 50 air miles due south of Saigon. The weather was dry, the temperature the coolest it ever gets, about 90 degrees. "It would go up as high as 120 to 130 degrees down there," Richard recalled.
The area where the unit was stationed consisted primarily of jungle and rice paddies. "There were several rubber plantations in the area too. The villages are all pretty close together. This is the dry season over there.
"The people in the villages didn't even seem to know there was a war going on. They would go about their farming after a skirmish as if nothing had happened," Richard said.
The Fifth Battalion had set up a base camp from which platoons worked outward, seeking and killing the Viet Cong. The night Thomas was killed, Richard was back at the base camp. The unit had begun to rotate some of its men back tot the permanent installation for rest. Thomas had been in the field nine days when he was killed.
According to Richard, his brother was not shot as originally reported. "It was either a mortar round that went off, or a VC who got close enough to throw a grenade that killed my brother."
Prior to his induction into the Army, Thomas was employed by the Park ShopRite in Nutley. Store managers and employees remember him as a hard-worker and a sincere friend to many. Thomas was one of the best bowlers on the Shop-Rite team.
In recalling letters that Thomas had written home, Mrs. Van Houten said, "Thomas never told me of his hardships or anything bad. He told me everything was fine and quiet. He knew he had a job to do. He was fighting for his country."
Thomas and his family were members of the Vincent Methodist Church.
In addition to his parents and twin brother, Thomas is survived by another brother, John of Belleville.
Military funeral services were held Tuesday afternoon from the Fulcoli Home, 417 Franklin Ave. Interment was in Soldiers' Plot, Glendale, Cemetery, Bloomfield.
Adapted from The Nutley Sun
---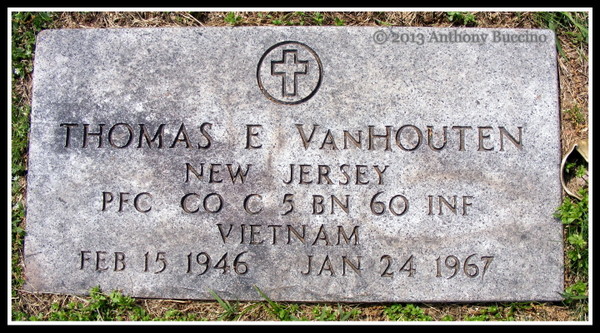 Laurel Section, NW F, Glendale Cemetery, Bloomfield, N.J.
---
Thomas E. Van Houten was born February 15,1947, and lived in Nutley, NJ with his parents Bertha and John, and siblings, John Jr., and twin brother, Richard. Thomas graduated from Nutley High School in 1965 and enjoyed bowling.

Van Houten entered the US Army on May 16, 1966 and served in Company C in the 5th battalion of the 9th Infantry Division where he attained the rank of Private First Class (PFC/E3).

On January 24, 1967, Van Houten was killed in action in South Vietnam. He was 19 years old.

He was awarded the Purple Heart.
---
New Jersey Vietnam Veterans Memorial Foundation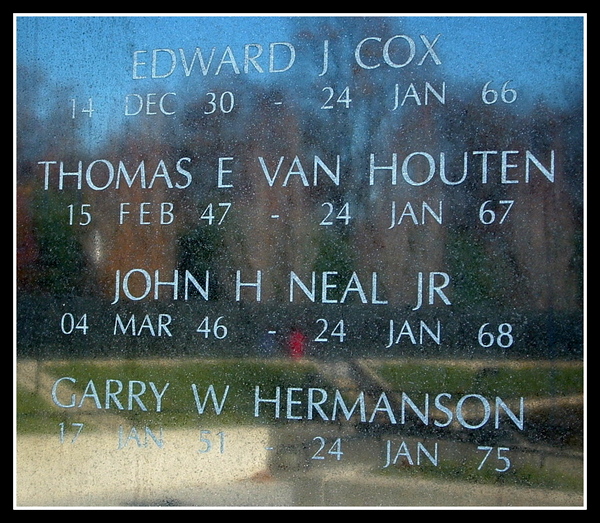 ---
National Memorial Wall Panel 14E - Row 075: