Nutley Marine Shot in Vietnam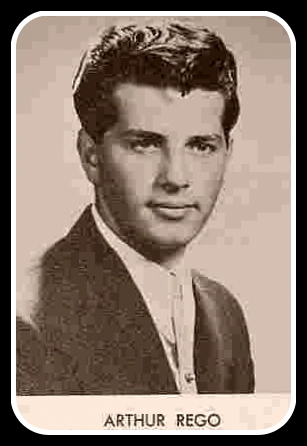 (Feb. 3, 1966) Marine Corporal Arthur Rego, 21, a 1962 Nutley High School graduate, was killed in action in Vietnam on Wednesday. He is the war's first casualty from Nutley.
Corp. Rego was shot in the head by a sniper while on night patrol last Wednesday (Jan. 26) outside the Da Nang Air Force Base perimeter.
He was assigned to the Second Battalion of the Third Marine Regiment in the Da Nang sector of Vietnam where he was part of the team assigned to guard the air strip and the newly liberated village of LeMay.
Corp. Rego completed his third anniversary with the Marine Corps three days before he was killed. He had been in Vietnam with the Third Marine Division since June.
Rego completed basic training with the Marines at Parris Island and then at Camp Lejeune. Before his assignment to Vietnam, he was in Cuba's Guantanamo Bay and on a cruise to France, Spain and England.
When he returned to the United States, he was promoted to the rank of corporal and then went on to Camp Pendleton, Calif., and then by way of Hawaii and Okinawa, on to Vietnam.
The son of Mr. and Mrs. Joseph Rego of Memphis Avenue., Arthur Joseph Rego was born Aug. 2, 1944 in Columbus Hospital, Newark.
His family resided in Nutley all his life. Arthur attended Lincoln School and was a member of the Boy Scouts. At Nutley High he played football during his freshman year, but then developed a charley horse. To keep busy, he took a part-time job after school, first with Wise Potato Chips, and then with Power Pipe and Supply Co., Passaic. He worked at the latter firm following his graduation until entering the Marine Corps on Jan. 23, 1963
His classmates at Nutley High School called him Artie. His teachers remember him as exceptionally neat and respectful. He received his first Communion and was confirmed at Holy Family Church which he attended regularly.
He was engaged to be married and plans for an Aug. 20 wedding were already underway.
His letters home to his parents and to his brother often expressed his desire to have the war ended in Vietnam before it reached American soil. He wrote that draft-card burners were not worth fighting for. He told his mother he didn't want his sons to go into battle. He was engaged to be married.
Arthur's fiancée, Arlene Francese, was graduated at Nutley High in 1963. Now a resident of Fords, Arlene is the daughter of Mr. and Mrs. Frank Francese, formerly of Kierstead Avenue.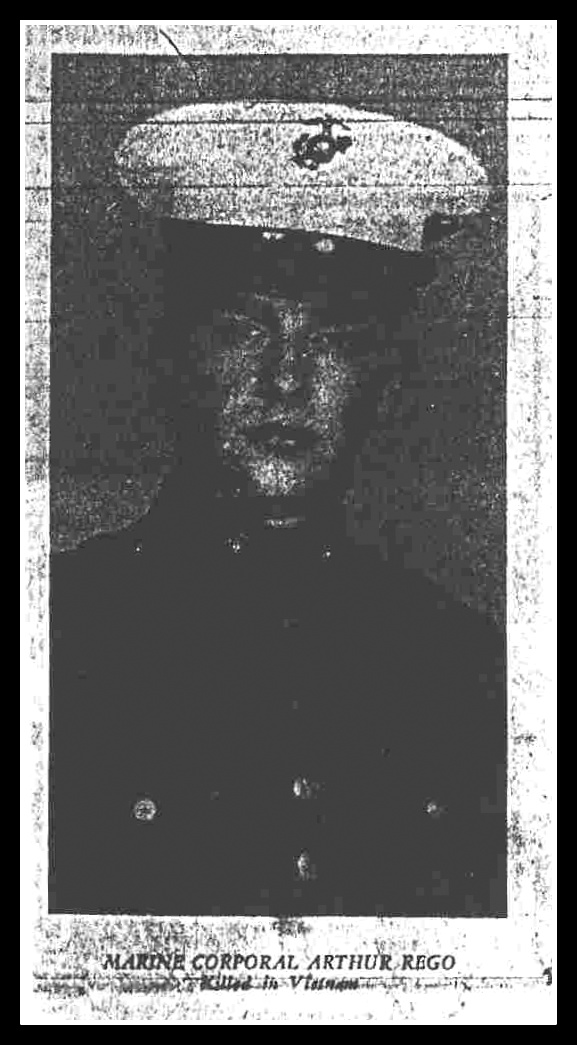 Arthur and Arlene were a popular couple at Nutley High School. After his discharge from the Marines, Arthur had hoped to take the examinations for the New Jersey State Police.
Among his interests were art, printing and ice skating.
The class of 1962 at Nutley High School, the administration and faculty that instructed Arthur vividly recall a respectful young man, quiet at times and yet completely willing to enjoy any humorous situation to its limit.
Say his teachers, "He set a standard of neatness in dress for himself that stood as an example for the whole student body. He often said he would like to have a million; he has indeed a million who are indebted …"
A military funeral will be held from the Samuel W. Brown Home, Centre Street. Corp. Rego is interred at Plot: Block 75 Section A Grave 723, Holy Cross Cemetery, North Arlington, NJ.
In addition to his parents, Corp. Rego is survived by a brother, Joseph.
Adapted from The Nutley Sun, Feb. 3, 1966, Nutley Marine Shot in Vietnam
---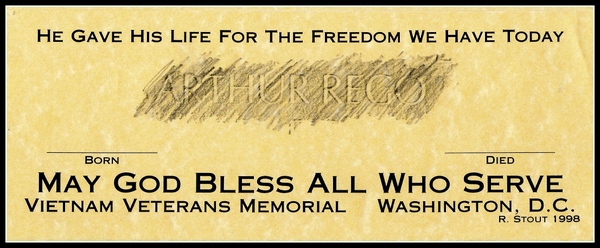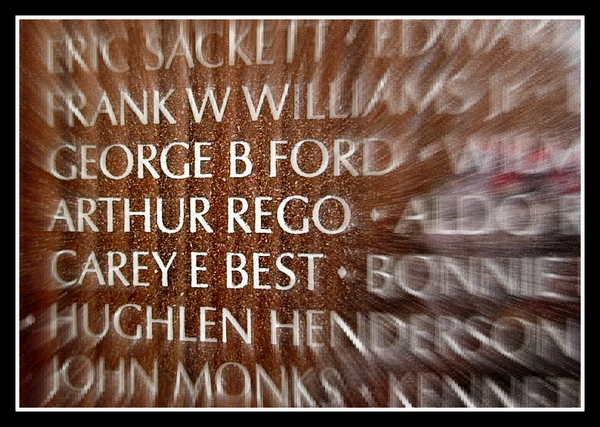 National Memorial Wall Panel Panel 04E - Row 098
---
New Jersey Vietnam Veterans Memorial