(Feb. 26, 1953) Private Robert G. Bliss died February 4, during Army maneuvers in Germany.
Bliss, 22, died of asphyxiation in his sleep in an army mess truck to which he was attached as a cook with Battery C, 517th Armored Field Artillery battalion.
The accident occurred near Zallenlmuse during field maneuvers. It was an unusually cold night in the German mountains and Bliss and several other soldiers rolled themselves into their blankets on the floor of the mess truck near lit cooking stoves.
Bliss, who formerly lived on Centre Street, was a strong six-footer. He had attended Central High School in Newark and worked as a salesman after graduation.
He married a Hillside girl shortly before entering the army in October 1951. His tour of service about to end, his family had their home redecorated and were making elaborate plans for his welcome.
Bliss is survived by his wife, Arline; his parents, Martha and Albert M. Bliss, of Belleville, and a brother, Walter.
Services were scheduled for Brown funeral home and the Mt. Pleasant Baptist church, Newark, where the youth's father is a deacon.
Pvt. Bliss (Aug. 29, 1930 - Feb. 4, 1953) is interred at Mount Pleasant Cemetery, Newark, NJ, Section P, Lot 133.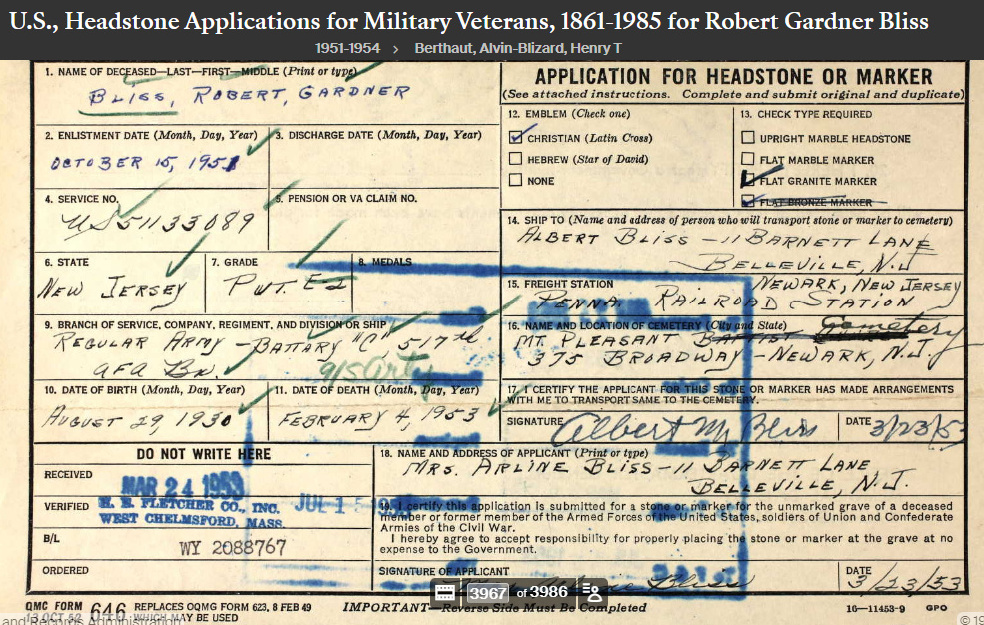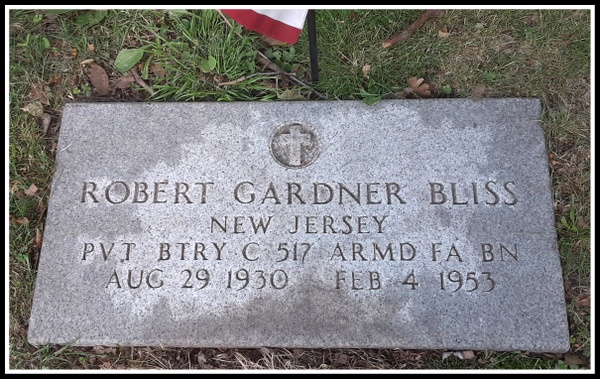 Adapted from The Nutley Sun, Feb. 26, 1953
U.S., Find A Grave Index, 1600s-Current
U.S., Headstone Applications for Military Veterans, 1861-1985
Headstone Photo by Michael Perrone, president Belleville Historical Society