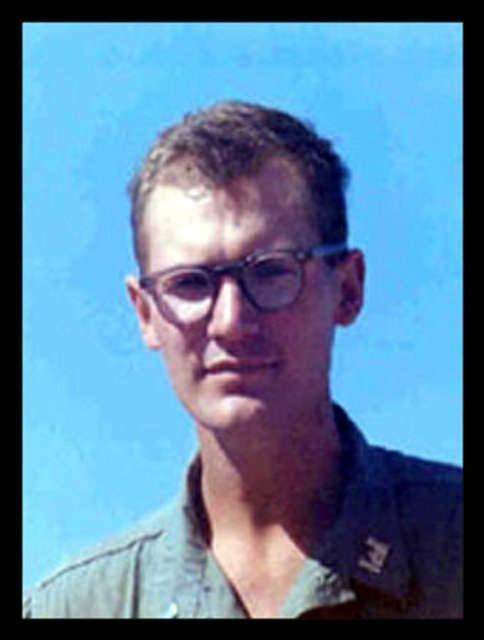 1st Lt. Charles Richard (Katt) Guttilla, 23, son of Aileen and Charles Katt, was killed in action in Vietnam on Feb. 20, 1967.
His father, Charles Katt of Nutley, N.J., was killed in action when his troop ship HMT Rohna was sunk as a result of enemy action in North Africa on Nov. 27, 1943.
Lt. Guttilla was raised in Georgia by his mother and step father, John Guttilla.
His tour of duty in Vietnam began July 10, 1966. Lt. Guttilla served with the 175th Combat Engineer Company, 196th Infantry Brigrade, Platoon Leader, 3rd Platoon.
Charles Richard Guttilla received the following awards:
Purple Heart for wounds received in an armed conflict. National Defense Service Medal, Vietnam Service Medal, Vietnam Campaign Ribbon, Good Conduct Medal, The Republic of Vietnam, Military Merit Medal, The Republic of Vietnam, Gallantry Cross with Palm.
Lt. Charles Guttilla is interred at Marietta National Cemetery Marietta, Cobb County, Georgia.
---
Final Mission of Lt. Charles Guttilla
1LT Charles R. Guttilla was a Combat Engineer Unit Commander serving with 3rd Platoon, 175th Engineer Company, 196th Infantry Brigade.
At approximately 11:10 A.M., on February 20, 1967, 1LT Guttilla was a passenger in a dump truck carrying a load of crushed laterite, a material used in road construction.
While traveling on a highway three miles northwest of Tay Ninh West Airfield, the dump truck detonated an anti-tank mine. Guttilla suffered fatal injuries in the blast.
Another person was injured. The explosion reportedly caused serious damage to the vehicle's front end.
[Adapted from coffeltdatabase.org and "Army 1967 196th Light Infantry Brigade, 25 Nov 1966 - 8 Apr 1967" at ttu.edu] WKILLIAN@SMJUHSD.ORG
---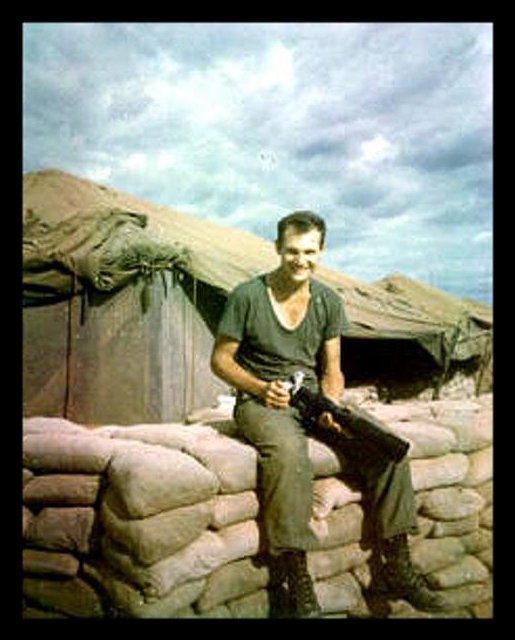 Platoon leader Lt. Charlie Guttilla at the 175th Engineer
Company, east of Tay Ninh City in late 1966.
Photo courtesy Brad Guttilla.
---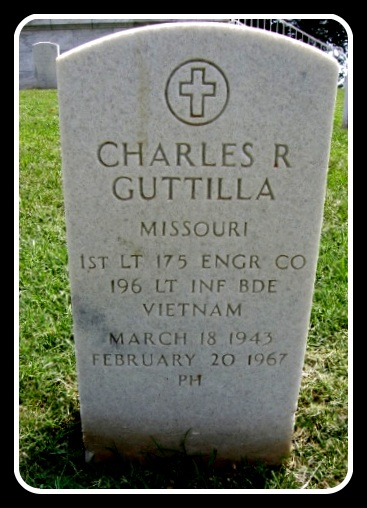 Lt. Charles Guttilla is interred at Marietta
National Cemetery Marietta, Cobb County,
Georgia. Photo by Robert Sage, Find A Grave
---

According to The Wall-USA
Army - 1LT - O2
Age - 23
Date of Birth - Mar 18, 1943
From - DECATUR , GEORGIA
1LT - O2 - Army - Reserve
23 year old Single, Caucasian, Male
Born on Mar 18, 1943
From DECATUR, GEORGIA
Length of service 1 year.
His tour of duty began on Jul 10, 1966
Casualty was on Feb 20, 1967
in TAY NINH, SOUTH VIETNAM
HOSTILE, GROUND CASUALTY
OTHER EXPLOSIVE DEVICE
Body was recovered
Religion
ROMAN CATHOLIC

Panel 15E - - Line 66
---
Sources
Vietnam Veterans Memorial Homestead
---
Links
New Jersey Vietnam Veterans Memorial
Additional biography and photos added 2021